At the fair
Artists, photographers, filmmakers, curators and publishers look at how artistic languages are developing
...
A new layout for Arte Fiera 2017 which will develop across two large pavilions of the Bologna Exhibition Centre
...
This year will see the return of Euromobil Prize Under 30, Videoinsight® Foundation Prize and Rotary Valle del Samoggia Prize
...
In town
From Friday 27th to Sunday 29th January, the city will take centre stage for the fifth edition of ART CITY Bologna
...
On the occasion of Arte Fiera, Bologna will be filled to the top by contemporary art: exhibitions, performances, happenings, extraordinary events
...
A cinematographic review at the Civic Archaeological Museum – Bologna Museums Institutions, curated by Mark Nash
...
- GLIMPSES OF THE DOCUMENTARY, examines the confines between video art and documentary cinema. Curated by Marco Bertozzi
...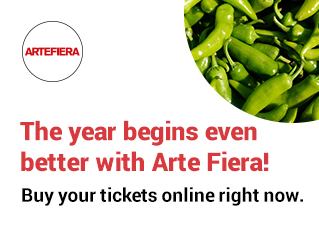 an event by


© 2017 BolognaFiere S.p.A. - Sede Legale viale della Fiera 20 40127 Bologna, Italia - PEC: bolognafiere@pec.bolognafiere.it,
email: artefiera@bolognafiere.it capitale sociale € 93.780.000,00 interamente versato, codice fiscale, partita iva e registro imprese BO 00312600372 REA BO367296

Cookies Policy | Legal notes