Alessandro Luppi

Alessandro Luppi is the director of the LABS Contemporary Art Gallery in Bologna. The space has always been dedicated to research, with special attention to the dialogue between historicized art and contemporaneity, focusing on the territory and the history of Bologna. There is a strong link between the gallery and the city's history: the building dates back to the 13th century, when it was the Church of S. Maria della Ceriola, elements of which are still visible in its architectural structure.

Arte Fiera was important for my career: my first visit was about 25 years ago, as an observer. I wandered around the stands, searching for a strong emotion, wanting to learn more and understand what I might like so that I could swim in the mare magnum of art. Back then I certainly wasn't thinking about becoming a gallerist: I just wanted to increase my enthusiasm as a small collector.
As time passed, I felt a need to share my way of looking at art. In 2014 I created a space that could reflect my study and sensibility, and in 2015 I participated in Arte Fiera as a gallerist.
Arte Fiera has always been profoundly linked to Bologna's urban fabric.
When I think about my first visit, I remember the crowd of people flowing from one hall to another, as in a joyous dance. Arte Fiera is the event of the year, a time of socialization and festivity, and these are the characteristics that I've always found in the city of Bologna.
The Fair reflects the cheerfulness and sense of integration that the city shows its visitors; it is the expression and product of the area, and acts as a medium so that national and international players may dialogue.
If I may be so presumptuous as to mention one of my own exhibitions, I'd like to recall the project entitled "Partiture illeggibili" ("Illegible scores") curated by Angela Madesani, planned for Arte Fiera 2020. It aimed to create a dialogue among six artists from different generations (three exhibited at the fair, three in the gallery): Max Cole, Marcia Hafif, Elena Modorati / Nina Carini, Leila Mirzakhani, and Greta Schödl, an artist closely linked to Bologna.
Schödl, Austrian by birth, has lived in Bologna since the 1950s, coming here with Dino Gavina, whom she married in 1959. Besides working with Gavina in his design activity, she has always pursued her career as an artist, and time has brought her the worldwide recognition she deserves. She had a solo show at Frieze NY 2019, and her works have been purchased by Italian and foreign museums.
The artists involved in the project focus on process, understood as a daily exercise involving mind and body. Writing is the tangible sign of this work, whose meaning refers to archetypes, to a sort of primary moment, in which "it is the mark that scratches the ground and defines the coordinates by which one may get one's bearings."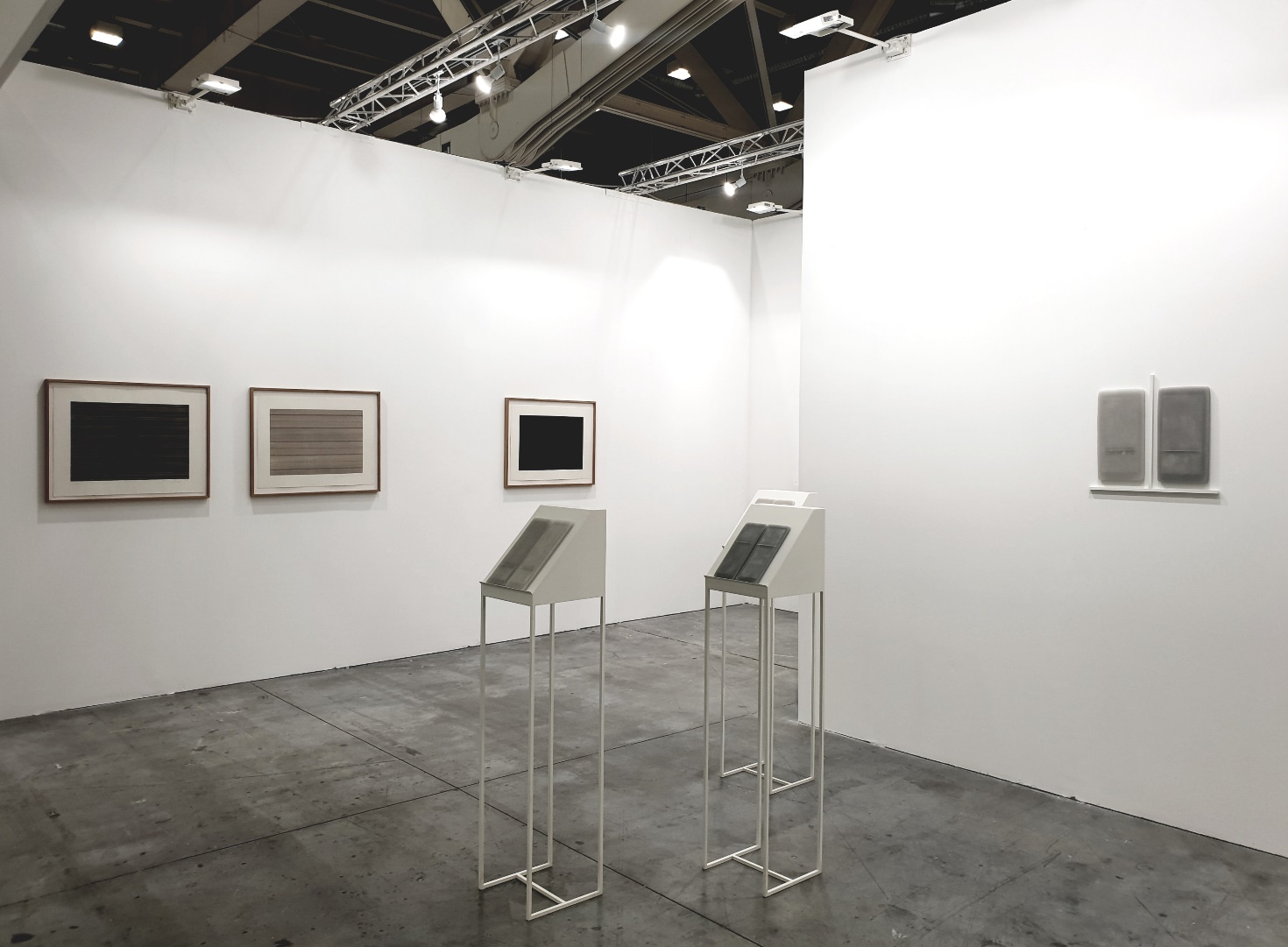 Arte Fiera 2020, installation view, Max Cole, Marcia Hafif and Elena Modorati
Back