Beppe Finessi
Beppe Finessi (b. 1966), architect and PhD, is an Associate Professor at the School of Design at Milan Politecnico, a critic (former editor of "Abitare" magazine), and a researcher who has curated exhibits and publications on the masters of Italian design and on today's young designers. In 2010 he founded and directed "Inventario," a publishing project that won the ADI Compasso d'Oro in 2014, and curated "TDM7. Il Design Italiano oltre le crisi," the 7th edition of the Design Museum Triennial (2014-2015). In 2019 he was commissioned to curate the ADI Design Museum in Milan, scheduled to open in the near future.
Beppe Finessi was a protagonist of IN LIBRERIA, the PLAYLIST section of Arte Fiera.


When I think of Bologna. I think of a show at the Otto Gallery, many years ago, with marvellous things chosen by Carol Rama.
Or of the show entitled "Sotto" by my teacher Corrado Levi at the Loretta Cristofori Gallery, which we, his pupils, set up for and with him back in 1992.
Or of Carlo Scarpa's wonderful "Gavina Store" and of course of Dino Gavina, whom I met in his incredible home in Bologna, accompanied by Getulio Alviani (an unforgettable afternoon: Dino Gavina was truly a legendary personality/monument of the design world!).
Or, more recently, of the beautiful inauguration of the Museum of the History of Bologna in Palazzo Pepoli, created by Mario Bellini with a stratospheric graphic design by Italo Lupi…, and of the "museum" show entitled "PoliArte," with works by Basilico, Garutti, La Pietra, Levi and Mendini, presented a few years ago by Giacinto Di Pietrantonio at the Enrico Astuni Gallery.
Or of all the times I came here just to see paintings by Morandi … and the unforgettable dinner at the home of Alberto Mugnaini, when the great Dario Trento and his "sister" Vittoria Chierici spoke about Morandi, his personality, family, imitating his accent, etc.
And I also remember going to Vittoria Chierici's studio in Bologna to see and choose her "renaissance" battles, which have always stayed with me: paintings from other times.
I also recall (many years ago) when Marzia Corraini asked me if I could invite Ettore Sottsass (!) to the Fair, and when at the last minute he couldn't make it, she sent me to "replace" him (obviously impossible). If I remember correctly, Simona Vinci was there to help us present and discuss his "Metafore."
And of course, I think of my teacher Corrado and of his "Monument to the homosexual victims of Nazi-Fascist persecution", designed 30 years ago with his students and with friends of the ROSPO (Riscossa Omosessuali Studenti del Politecnico) collective and still viewable in the public garden of Villa Cassarini.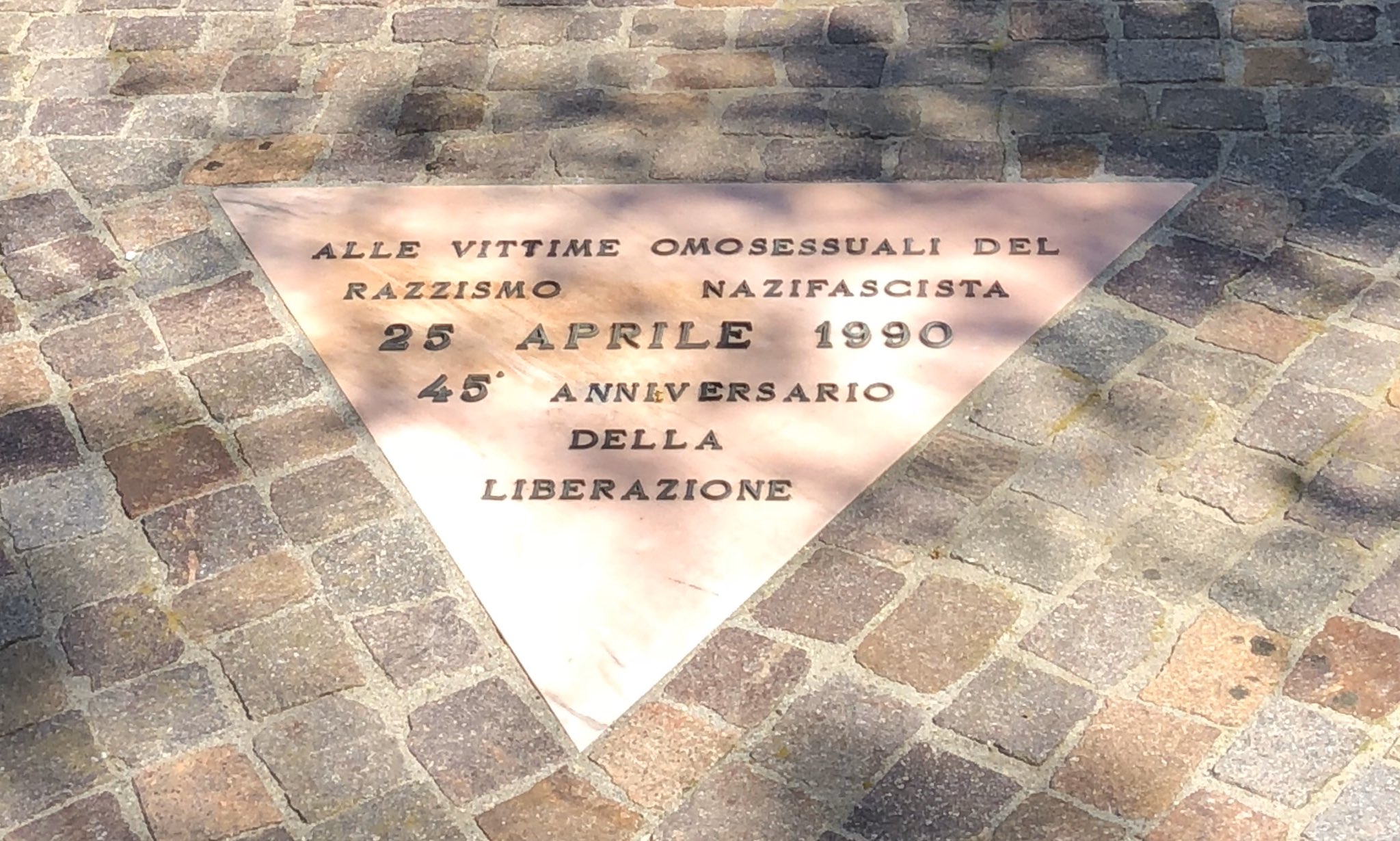 Monument to the homosexual victims of Nazi-Fascist persecution, 1990 - Public garden of Villa Cassarini, Bologna
Back