Davide Rosi Degli Esposti
Davide Rosi Degli Esposti is the director of Bologna's CAR DRDE Gallery, which inaugurated the art district created in the "Manifattura delle Arti" area. CAR DRDE is an exhibition space for the promotion and popularization of contemporary art and of its current practices, expressed through a variety of media. It offers a programme of exhibits focused primarily on the latest generations of artists from all over the world, comparing different generations and creating new viewpoints and paths of development.

I've always thought of CAR DRDE as an open, dynamic space in which dialogue with the local area is essential for creating specific projects that relate to our surroundings. There are many places that stand out in my memory, that have left a lasting mark. Hidden treasures in my city make Bologna a jewel box of emotions, becoming a starting point and inspiration for countless artists with whom I've worked over the years.
But in this column, I'd like to talk about a project that looks to the future and to a collective will, one that bonds local players united by a common feeling. In this post-lockdown period, marked by great uncertainty for art galleries and large art events, systematising cooperation by collaborating and sharing has never been so fundamental.
Therefore, Bologna launches the GALLERY TO GALLERY project, an active, shared experiment in contemporary art that speaks to an inquisitive and passionate public: #onlyforchampions.
This new and unique itinerary winds through the streets, bringing visitors to six galleries that share a desire to network at a critical moment for the entire culture system. Offering beauty in troubled times is essential, and it's even more essential to support artists and the whole, wonderful ecosystem of contemporary art, now so fragile. The galleries unite in a project that creates an unpredictable relay race through the spaces involved, letting visitors once again enjoy art "in person" after months of virtual life. Dedicated and guided tours, always different and versatile: you know where you start but not where you wind up.
"Gallery to Gallery is a call to action to encourage people to go back to looking at art "up close" in a time of total detachment from the physical experience and enjoyment of exhibition spaces, an invitation to consume art actively so that galleries may once again be places of cultural exchange. This collaboration derives from the idea of celebrating a live experience and also marks the reopening of the galleries after more than two months of lockdown. Though difficult, this is precisely the moment to emphasise our presence in the city, the roots of our profession, and our commitment to the public. We have been supporting our artists for years by promoting more and more ambitious projects and constantly contributing to the national and international cultural scene. The art system, with countless participants – curators, gallery assistants, handlers and installers, consultants, press offices – is in an extremely fragile situation. Therefore, the market is now, more than ever, indispensable for the artists' survival, support of production, and the entire system."
The galleries involved in this initiative are making a joint effort to promote and support their programmes and exhibition spaces, rediscovering the pleasure of cooperation and resuming their role as cultural agents and active members of Bologna's artistic scene.
The GALLERY TO GALLERY project will expand even further in September, taking on a new form, launching new and dynamic relations in the city, and continuing to involve the public, which will become the true protagonist of the event.
[Ed. note: Enrico Astuni, Car DRDE, De Foscherari, Gallleriapiù, Otto Gallery, and Studio G7 are members of the project.]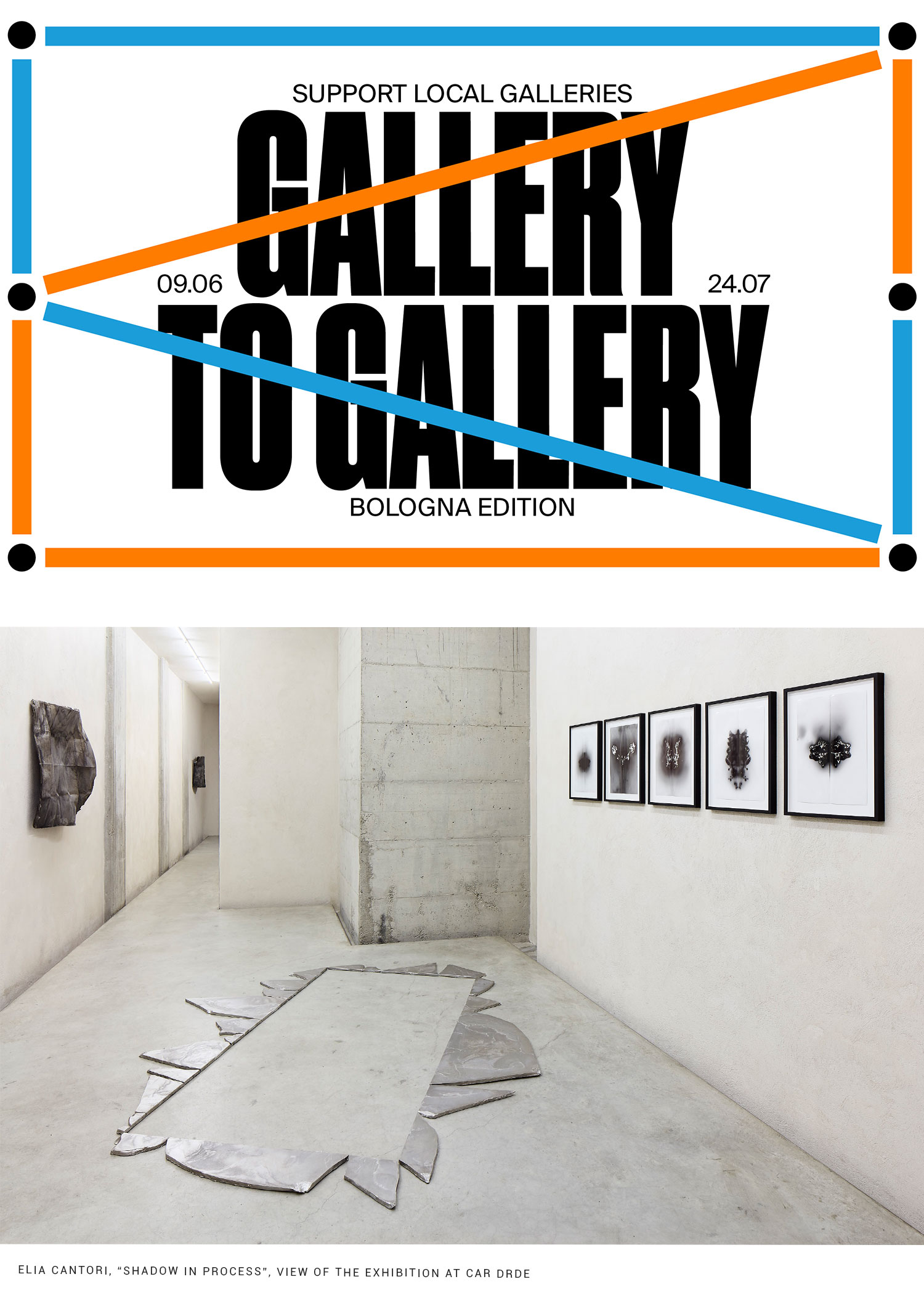 Back