Federica Schiavo
Federica Schiavo is the director (with Chiara Zoppelli) of the Federica Schiavo Gallery, founded in Rome in 2009 and based in Milan since 2016. She has been a member of the Arte Fiera Selection Committee since 2019.


Patrick Tuttofuoco - Zero (Weak Fist)

Bologna is the last stop on the tour of Patrick Tuttofuoco's Zero (Weak Fist), selected by the Italian Council and one of the main projects of Art City 2019.
The mobile light sculpture of a hand in a relaxed position – half-open or half-closed, depending on how you interpret it – was designed as an itinerant installation and has travelled from the Arch of Augustus in Rimini to the courtyard of the Italian Embassy in Berlin and, finally, to the top of Porta San Donato/Zamboni in Bologna.
The sites where the work was exhibited were all chosen based on their function and link with history (starting with the Arch of Augustus in Rimini, the only arch that does not celebrate a victory and did not serve to close the gates to the enemy). Likewise, Porta San Donato is the access point to the university district, a symbol of the multiculturality and openness that has always characterised life in Bologna. Moreover, because of its connection to the University and cultural life, Porta San Donato maintains its historical value while simultaneously looking eagerly to the future.
Zero (Weak Fist) is a semi-closed - or semi-open – hand in a welcoming, inclusive position. The work can be interpreted in two ways: resistance (if you see a closed fist) or openness and willingness to debate, to believe in dialogue and inclusion. It is a work that speaks to our times.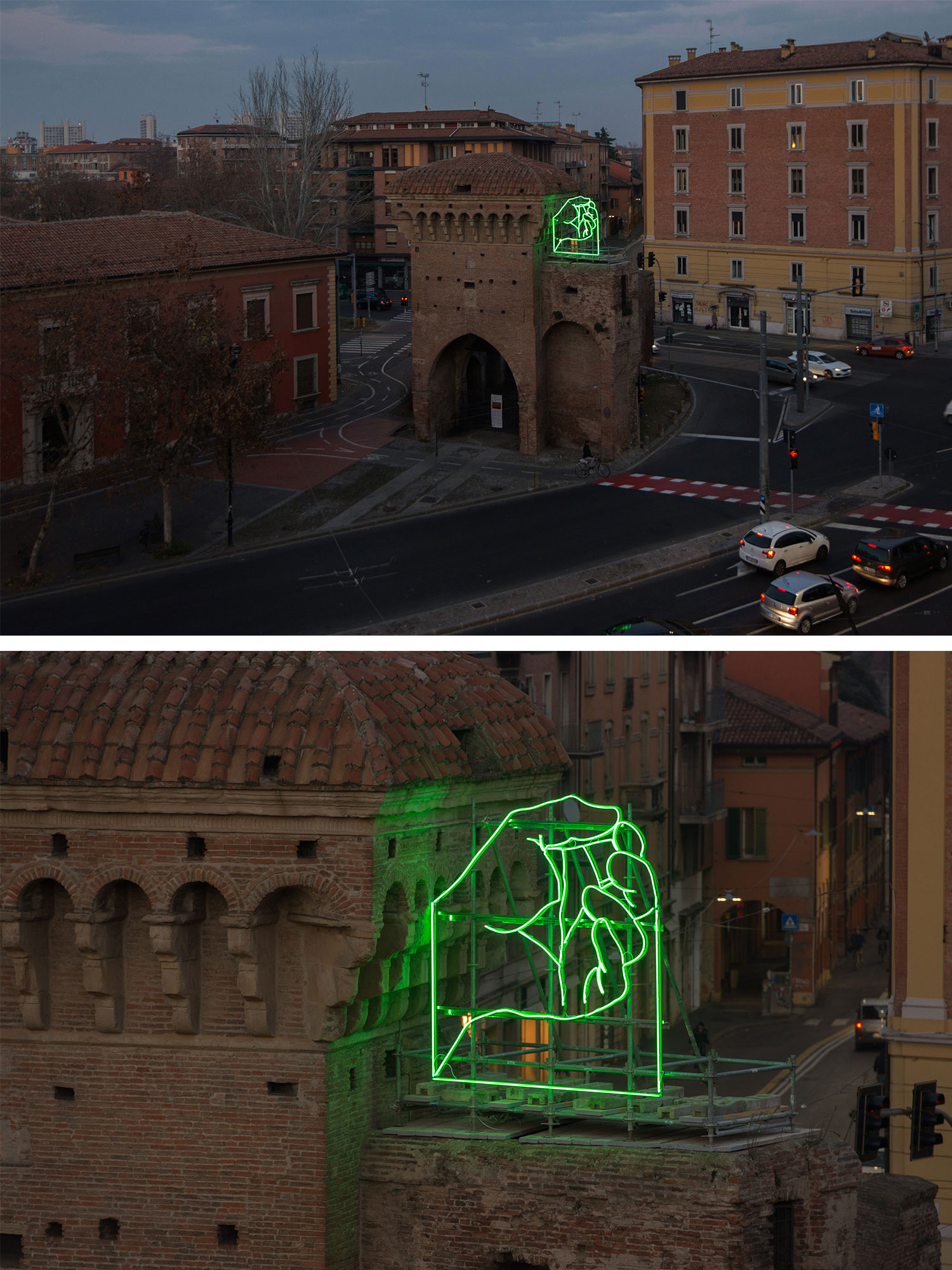 Back