Marcorea Malià
Marcorea Malià (real name Marco Zanardi) opened his "creative cave," a studio-salon-laboratory and meeting place for art, in 1978. Since then, he has dictated fashion in Milan shootings, and countless artists, politicians, singers have come to his salon.
He is a partner of Arte Fiera 2020, whose artistic director calls him his "head curator."


Bologna, an amazing city.
Who would ever have thought that after December 1978, when I opened my salon during the student uprisings and the rumble of tanks on Via Ugo Bassi, Bologna would become the nucleus of the avant-garde and transgression for young people all over Europe!
Bologna changed rapidly, just like New York, San Francisco, and Berlin after the Wall fell.
A city yearning for modernity but profoundly linked to tradition, at first it accepted me with suspicion, then "allowed me" to be one of the leaders of its cultural transformation.
I was 20 years old, chafing at the bit, from the fashion world of Milan, and I couldn't stand being idle. I had to do things: I was a loose cannon, I loved change and provocation. I wanted to be at the centre of everything happening in the city. So, between haircuts, I went down into the cellars to listen to Gaznevada and Skiantos rehearse, then flew to Milan to hear Matia Bazar and the Righeira duo. Later, I came back to Bologna to work with Vasco Rossi and hang out with the comic-strip artists Igort, Brolli, Carpinteri, and Jori, taking part in their artistic adventures. I spent several days a week in Milan, working like crazy for Milanese fashion magazines (in those days, Milan was the centre of the fashion world), then came back to Bologna to my "creative cave," full of electronic music and film showings, eager to try out the latest styles on my customers' heads. Among others, there were Andrea Pazienza, Pier Vittorio Tondelli, Piero Manai, and Francesca Alinovi. Andrea cried when I cut his hair, but he was fragile and could never make up his mind. Tondelli loved to mess up his hair and play with shapes. Once I dyed his hair fluorescent yellow, and on the nape of his neck I designed the letter "M" for "Marcorea Malià" with a razor. Pier Vittorio was a brilliant observer, describing my salon's customers as "Orea Malià's Galactic Fauna." Piero Manai, a poetic and tormented artist, was a kind person and a sensitive friend. I cut his hair in New Wave style, shaved at the sides and on the nape, with a long lock that covered one eye. Piero created beautiful art and died much too young, leaving enigmatic works that were exhibited in Bologna in September 2019, in a wonderful show organized by the P420 and CAR DRDE galleries. Francesca Alinovi walked into my salon timidly, almost tiptoeing. I, on the other hand, was arrogant, carried away by success: I read my name in the top fashion magazines and even in ones that talked about art, like "Frigidaire." Francesca, art critic and lover of the avant-garde, was attracted by my alternative space and by the fame that preceded me. Nevertheless, it took me a while to convince her to change her aesthetic and go for a more aggressive look in the style of Siouxsie And the Banshees. With this new image, she expressed all of her aesthetic potential. Backcombing was out: she wanted an exaggerated look. Francesca was the one who sent the very young Keith Haring to my salon. He was in Bologna with a group of American graffiti artists, including the as-yet-unknown Basquiat, who left his "Samo" tag on a wall in my salon (without asking permission). The energetic hurricane Maurizio Cattelan practically moved into my space at Via Hugo Bassi 15. He came every day to chat with anyone his found there and promote his incredible projects. With insistence that resembled Chinese water torture, he managed to sell me a large sculpture made of 8 iron hearts with faucets and chains. Almost unknown at the time, he convinced Gino Gianuzzi, founder of the Neon Gallery and of GAM (Modern Art Gallery) in Bologna to exhibit his works and host his performances. A real genius, as history has confirmed!
In the '80s, I met two extraordinary women who taught me to see the world from a new perspective. Mariuccia Casadio, journalist and art critic, art consultant for Vogue Italia, was working in New York in the editorial office of "Interview," the magazine created by Andy Warhol. As soon as I could, I joined her in the magazine's office on Broadway so I could be in the same place and breathe the same air as these great artists and be inspired by their ideas. Ever since those days in New York, Mariuccia and I have met in Bologna every Saturday in a charming symposium, using the language of hair to talk about art, culture, and fashion, sharing secrets about the world. Mariuccia is a walking encyclopaedia, a rare mind and still a wonderful friend.
Maria Bargiotti, small and radiant, liked by everyone, "the lady with the blue hair," along with her husband Bartolomeo De Gioia, were giants of culture in Bologna with the Arts Club and the G. Marconi Art Award. Every week, she came to play with her hair and gave me an incredible, kaleidoscopic view of amazing clothes, the result of her research and love of fashion design. Maria, a living work of art, self-performer and great collector, went all-out to stimulate the city's love of art. She was the first one to tell me how important Arte Fiera was for Bologna and for Italy. I immediately grasped the value of such an extraordinary event, at which everyone could see and experience modern and contemporary art, encounter artists from all over the world and relish their works. But most of all I understood that for the city the annual event was a unique occasion to meet and talk about ideas that stimulated comparisons, expanded culture, activated new energies, and opened people's minds by exposing them to the mysterious and fascinating language of art.
40 years have passed since I first came to Bologna, and my "observatory" is still there, in the shadow of the Two Towers. The extraordinary people I've met here have transported me into the crux of art, and I've seen my city become transformed, opened up to the world thanks to culture and to the commitment of countless individuals and institutions that believed in a common vision, making it all happen.
I want to thank all of the people I've met, who've inspired me and who, like me, love this city and believe in the power of art.
I thank the city's invaluable art and culture institutions.
Lastly, I thank and support young people, a priceless source of inspiration for building the future and making this amazing city even greater.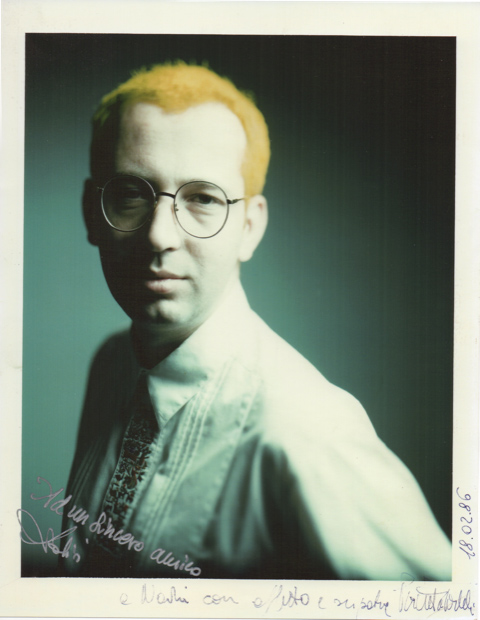 Pier Vittorio Tondelli - Photo Nadir
Back