Stefano Arienti
Stefano Arienti is one of the most important Italian artists of his generation. Born in Asola (Mantua) in 1961, in 1980 he moved to Milan, where he still lives.
In 1986 he earned a degree in Agricultural Science with a dissertation on virology.
In 1985 he took part in the first group show at the former Brown Boveri factory, where he met Corrado Levi, his first teacher.
He was a member of Italian artistic circles along with other young artists at the renewal following the years dominated by Arte Povera and the Transavanguardia.
He held a series of solo shows in Italian and foreign galleries and art institutions, including Museo MAXXI in Rome, the Sandretto Re Rebaudengo Foundation in Turin, the Querini Stampalia and Bevilacqua la Masa Foundations in Venice, and the Palazzo Ducale in Mantua. In the United States: ArtPace in San Antonio, Texas, and the Isabella Stewart Gardner Museum in Boston. He has participated in numerous group shows in Italy and abroad, including Biennials in Venice, Istanbul, and Gwanjiu.
He has travelled mainly in Europe, North America, and Asia, taking part in artist residence programmes in San Francisco, Boston, and San Antonio (USA), New Delhi (India), and Clisson (France).
He has taught at the Giacomo Carrara Fine Arts Academy in Bergamo and at IUAV University in Venice.
His style is characterised by the use of common, everyday materials; adoption of a simple manual ability that resembles that of a hobbyist or an artisan more than an artist; the use of pre-existing images deriving from a shared iconography or from art history.
Arienti has created the dual installation Ricchi e poveri (Rich and poor) for Arte Fiera's participation in Art City 2021 (7-9 May).


After an endless search, I finally found the photo of an eagle hidden in the façade of some "Santo al Monte." Actually, the sculpture - in the centre of Bologna - is very well known.
The work, sculpted by a certain Niccolò of uncertain origin over 500 years ago, is a defining part of Bologna. At first glance, it's hard to date the work, which has a very sturdy character. But after some research I discovered that the sculptor is the renowned artist of the Arca di San Domenico, a church that contains works by other artists, including Pisano and Michelangelo.
Of course, the sculptures composing Niccolò's "Lamentation over the Dead Christ," with expressions so dynamic that they seem to anticipate Boccioni, are always worthy of contemplation, the Nordic eloquence of their faces and hands recalling works by European and Italian masters.
A wonderful sculptor, whose art you can discover by simply walking around the city. Like works by Serpotta in Palermo….
If you stroll around Bologna, there are so many things to be discovered that you don't notice them all: a sort of simplicity that I love.
For example, entrance halls with painted bananas and architecture like the best of Ghirri, or limitless perspective with blue sky to remind us that the Bibiena brothers were born here.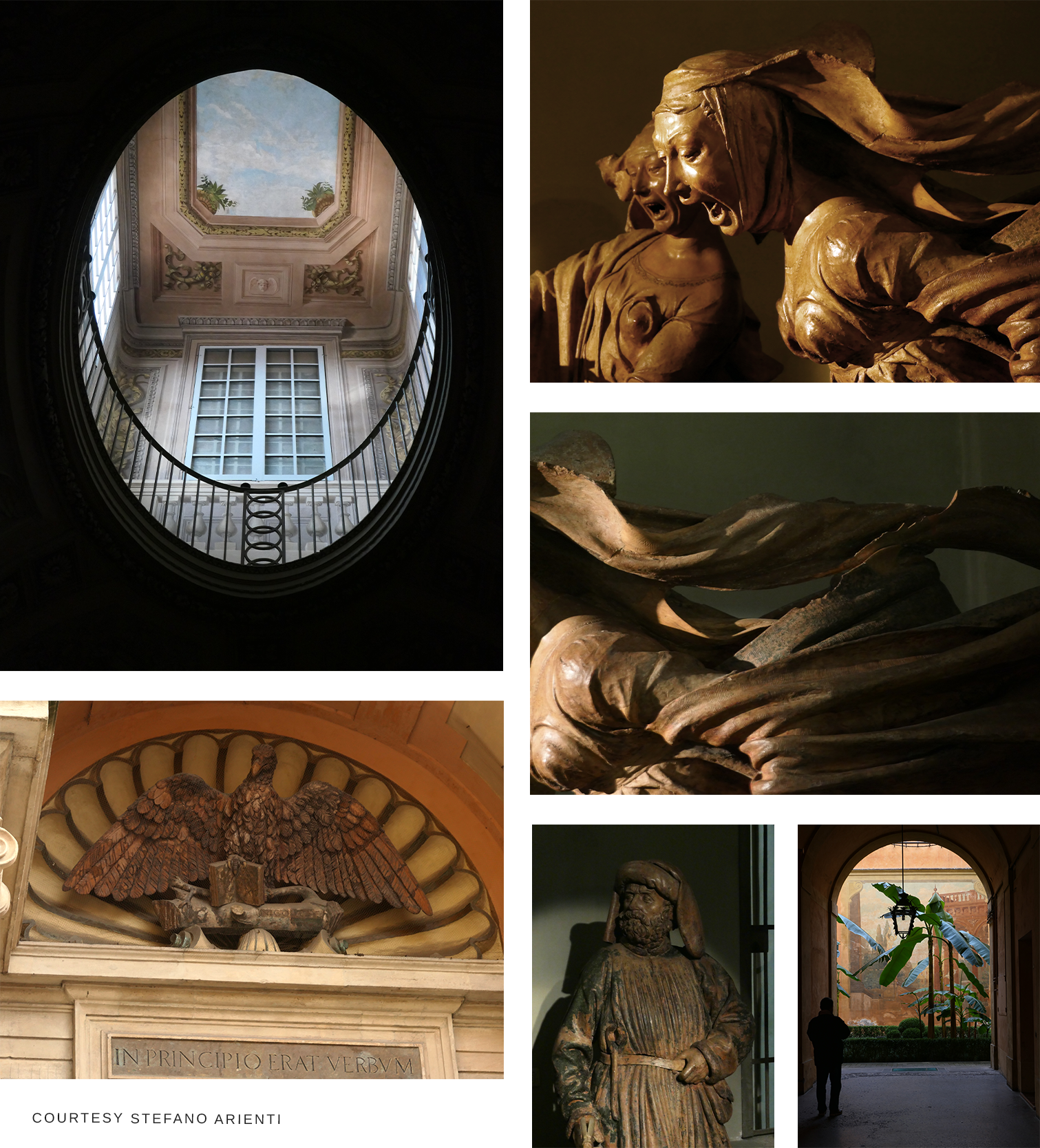 Back