Stefano Cortesi

Stefano Cortesi is a member of Arte Fiera's Selection Committee. His passion for art led him first to be a collector and then to open the first Cortesi Gallery in Lugano in 2013, followed by venues in London and Milan.
As always extremely pleasurable and welcoming, Bologna once again became the focus for art, both as a market place and as the hub of many cultural events.
Mika Rottenberg at MAMbo
One of the most striking events held in a public institution was the personal show by Mika Rottenberg, masterfully curated by Lorenzo Balbi.
The artist succeeded admirably in taking over the imposing volumes of the Sala delle Ciminiere, creating a labyrinthine circuit through some of her latest works: from sculptural objects to installations and videos, all reflecting her surreal sarcastic narrative take.
Melotti - Licini
At the art fair I spent a long time admiring the dialogue between the works of Fausto Melotti and Osvaldo Licini at the Repetto Gallery.
Of great poetic quality, the works on display gave revealing insights into the creativity of these two artists.
The booth also articulated to great effect the new curatorial approach demanded of exhibitors for the layout of the art fair.
Bertozzi and Casoni
Finally, I was delighted to meet in person the extremely talented Gianpaolo Bertozzi and Stefano Casoni whose work was presented by the Galleria Verolino from Modena. I have always admired their marvellous ceramic pieces that succeed in capturing with splendid irony the essence of contemporary life, often highlighting the negative aspects but with an artistic message that I see as positive.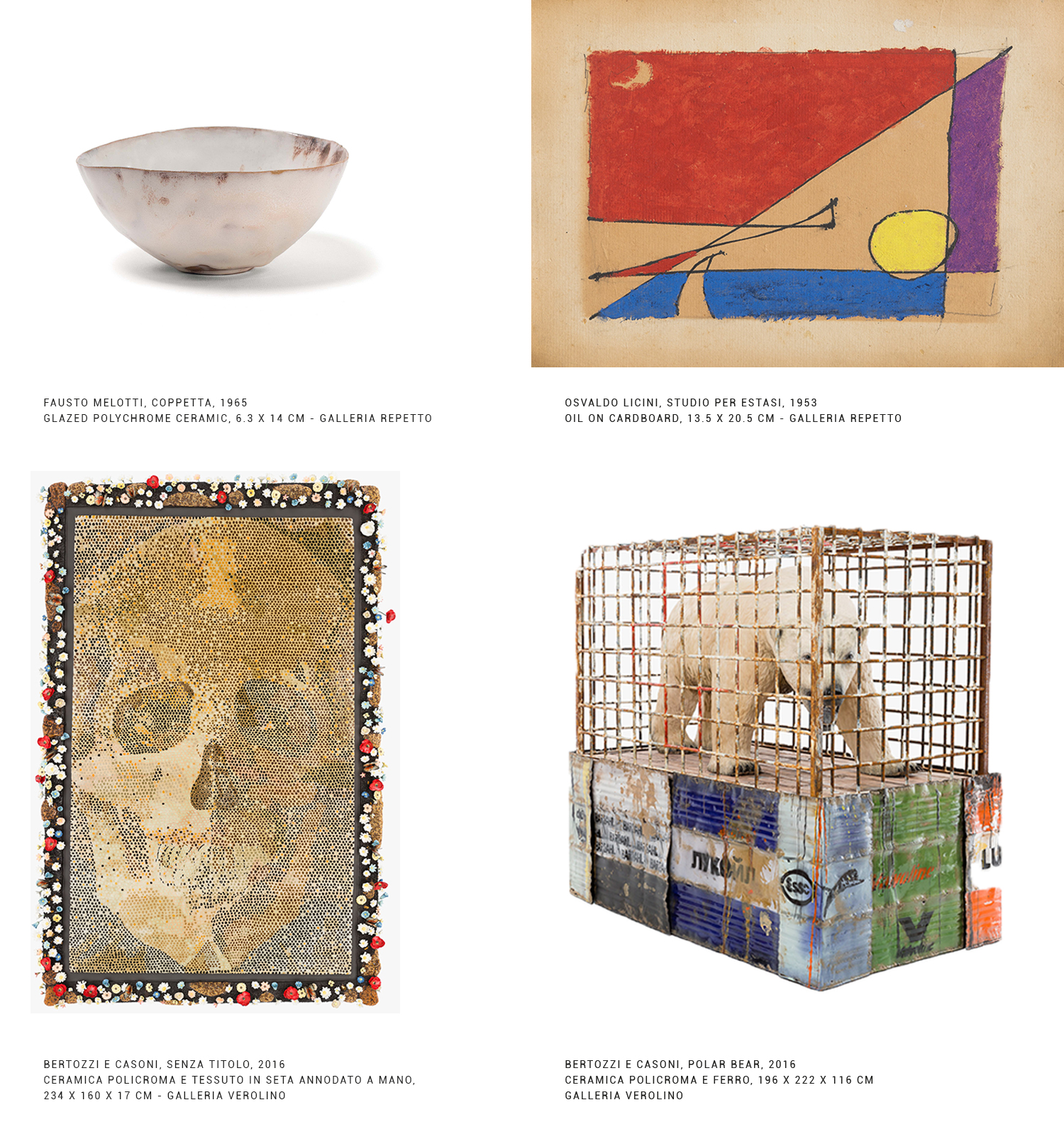 Back