Andrea Pizzi
Andrea Pizzi, an attorney in Bologna, specialises in art law and serves as a consultant to museums, foundations, artists and collections. In 2005, he founded the UIA Art Law Commission in Paris. He has written numerous essays and articles on the subject, and was one of the speakers in the Flash Art Talk programme at Arte Fiera 2020.



Be there!
Covid-19 has upended daily life in a flash. It has harmed us all and will continue to do so. The next several months will be tough and uncertain, not only for us but for the stability of the entire Italian system and, perhaps, for our idea of Europe as well. May 2020 is (almost) like May 1945. So, let's roll up our sleeves and not let anything or anyone rob us of the life we've worked so hard for!
Arte Fiera is certainly part of this life. The most prestigious Fair of Italian art and an absolute must for me as a Bolognese, as an attorney specialising in art, as a collector…. I've gone year after year, for at least 30.
We must not and cannot allow ourselves to lose any part of our daily lives, because it would take just an instant to lose it, and what is lost might never be recovered.
This is why we have to fight tooth and nail to make sure that the 45th edition of Arte Fiera is held next January. A great challenge for everyone: the city, BolognaFiere, galleries, collectors and art lovers in the broadest sense.
It will demand a joint effort. The galleries will have to be there, even if on the ropes, even if the market has collapsed. The collectors will have to be there, even without a budget. They'll have to act ethically to keep the art market from becoming a "usury market," as it did during World War II. Fleecing the galleries and the artists would be the worst and most short-sighted of errors, and the entire Italian art system would be seriously damaged, perhaps irreparably.
We can support the art system by going to a fair and helping the galleries stay alive.
Thinking we can do without galleries would be a tragic and stupid mistake: they are the creators and foundation of the modern art market. They've taught us about art just as much as museums have, moulding our taste, caring for artists and watching them grow, bringing them to the public's attention. It's unthinkable to do without galleries and, if we were so unwise as to try to exclude them, it would be a disaster on all fronts, generating the same abysmal quality as the underground market, a market that defiles art. The Fair has always allowed art and artists to encounter an enormous audience, to compare and compete, to see trends and to have an overview of where the market is going. And this makes the Fair irreplaceable as well.
The pandemic has greatly expanded digital technology and now lets us do countless things online – including work. This leap toward the digital world will remain with us, one of the few things from this horrible time that we'll maintain. But so far it's simply impossible for any gallery or any of the platforms (current or under development) to replace the Fair's role on the art market: the Fair lets you meet artists, gallery owners and other collectors, make appraisals in person, see and touch, be aware of what's going on.
After the wonderful Arte Fiera 2020, Simone Menegoi and Gloria Bartoli face an arduous task and have been working energetically on next year's edition for months. I don't envy them, but I'm quite sure they'll do a fantastic job once again. The (19)45 edition!
I'm sending out a dual invitation: to galleries, so that they'll be there despite all the effort and sacrifices involved, and to art lovers, so that they'll come to the Fair and buy, keeping in mind that there's no alternative to supporting the market.As we await the next edition, I wish everyone a good - and healthful - phase 2.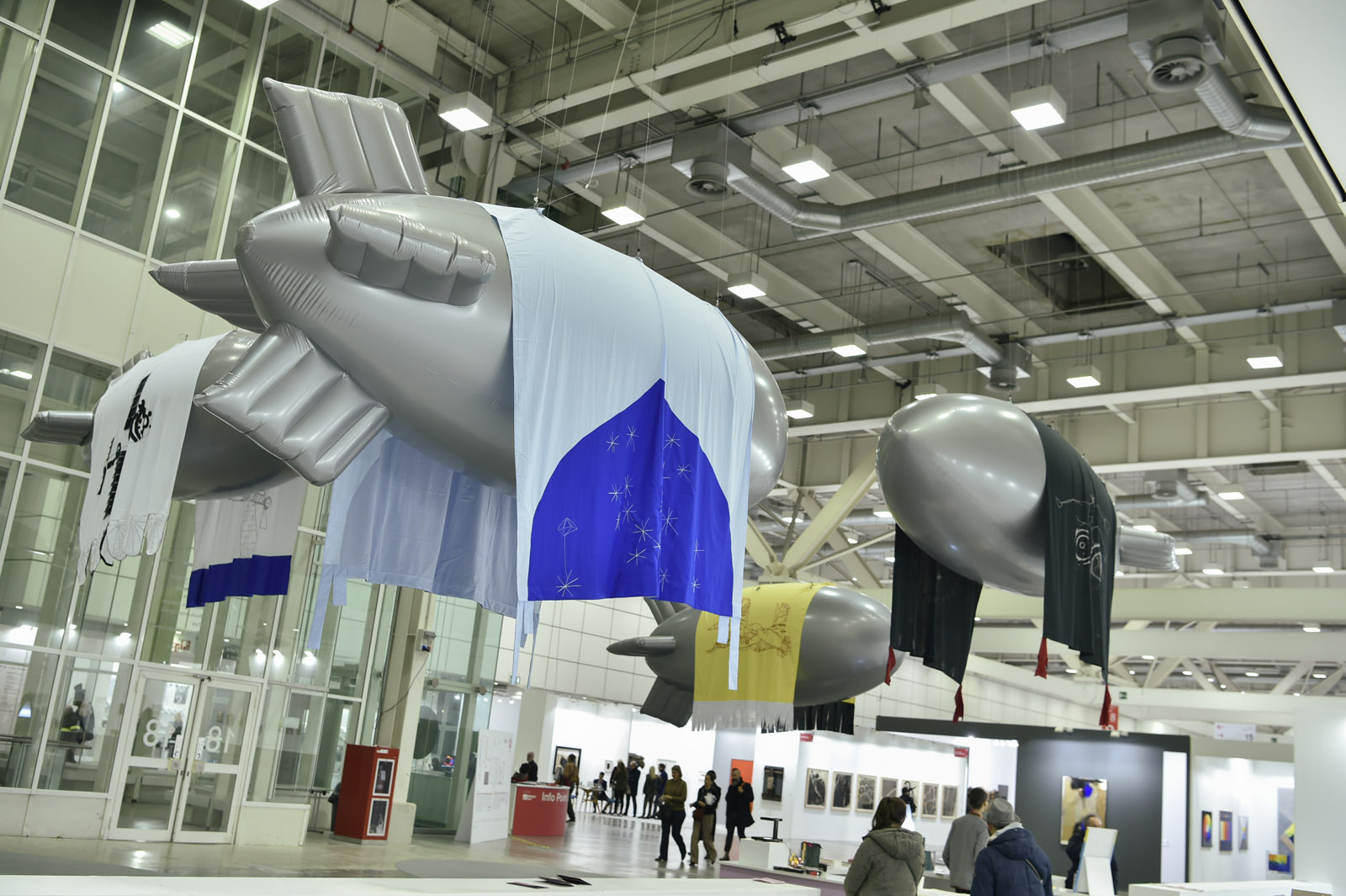 Welcome by Eva Marisaldi, an ad hoc work created specifically for Arte Fiera 2020
Back