Highlights
The film festival at the Civic Archaeological Museum - Bologna curated by Mark Nash will be open from 26 -29 January ...

We inform you with pleasure that ANGAMC (Associazione Nazionale Gallerie d'Arte Moderna e Contemporanea) is present at Arte Fiera with its own lounge in the Gallery Hall 25-26.

New graphic style of Arte Fiera 2017

The first new innovation for Arte Fiera 2017 is the new graphic style that has been completely updated to highlight what has always distinguished the fair's approach to art ...

Special Projects: Time Specific Artist Lectures, Site Specific Artist Lectures

A programme of artist lectures that will take place in different exhibition spaces in the city of Bologna, curated by Chiara Vecchiarelli ...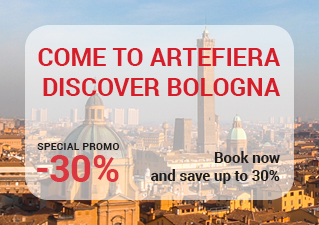 About us
With the direction of new artistic director Angela Vettese, Arte Fiera is set to hold its 41st edition with an updated version, confirming its identity as the most consolidated and historically rich Italian art fair: MAIN SECTION, SOLO SHOW, NUEVA VISTA, SPECIAL PROJECTS and a PHOTOGRAPHY section. 'Art is nature': a new and innovative graphic style ...
At the fair
In town
an event by


© 2017 BolognaFiere S.p.A. - Sede Legale viale della Fiera 20 40127 Bologna, Italia - PEC: bolognafiere@pec.bolognafiere.it,
email: artefiera@bolognafiere.it capitale sociale € 93.780.000,00 interamente versato, codice fiscale, partita iva e registro imprese BO 00312600372 REA BO367296

Cookies Policy | Legal notes