Cecilia Canziani
Cecilia Canziani is an independent and historical art curator. At Arte Fiera 2019, Cecilia Canziani was a jury member of the Mediolanum Award for Painting won by Nazzarena Poli Maramotti.



Every time I go to Bologna, I visit the Church of Santa Maria della Vita. I buy a ticket always in the hope of being alone, but more often than not I have to share the balustrade before The Lamentation with groups of people, usually accompanied by a guide. I make my way through the crowd, moving from right to left, probably disturbing them, but console myself with the fact that it's mutual.
The Lamentation is the first certified signed work by Niccolò dell'Arca, a sculptor known in his day for being as eccentric and uncouth as he was stubborn. His group of coloured terracotta figures was moved many times before being finally settled in its current location. Time and the many restorations have meant that practically all the colour has been lost. Not even the position of the figures is known for certain to be the original configuration, I hear the guide say.
Six figures gather around a figure lying still in death. Two women rush to the scene distraught, their mouths open wide in a scream. Not even Bernini, two centuries later, would represent movement in this way. The two figures move in opposite ways. One rushes forward towards the dead Christ; the other seems to hold back at the last minute as if in a gesture of denial. John's face is contorted as he holds back the tears. Mary is an old woman. Nicodemus, the homo faber, holds a belt on which hang a pair of tongs. In the other he holds a hammer. He is the only one not looking at the supine figure, but it is this figure that allows us who stand before the scene to become part of it.
Everything is over the top. Almost too much, and yet not enough – terracotta, after all, is a minor art. Yet, if we believe that contemporary art is something that comes back from a distant past to speak to us, then The Lamentation is definitely a work of today - a performance.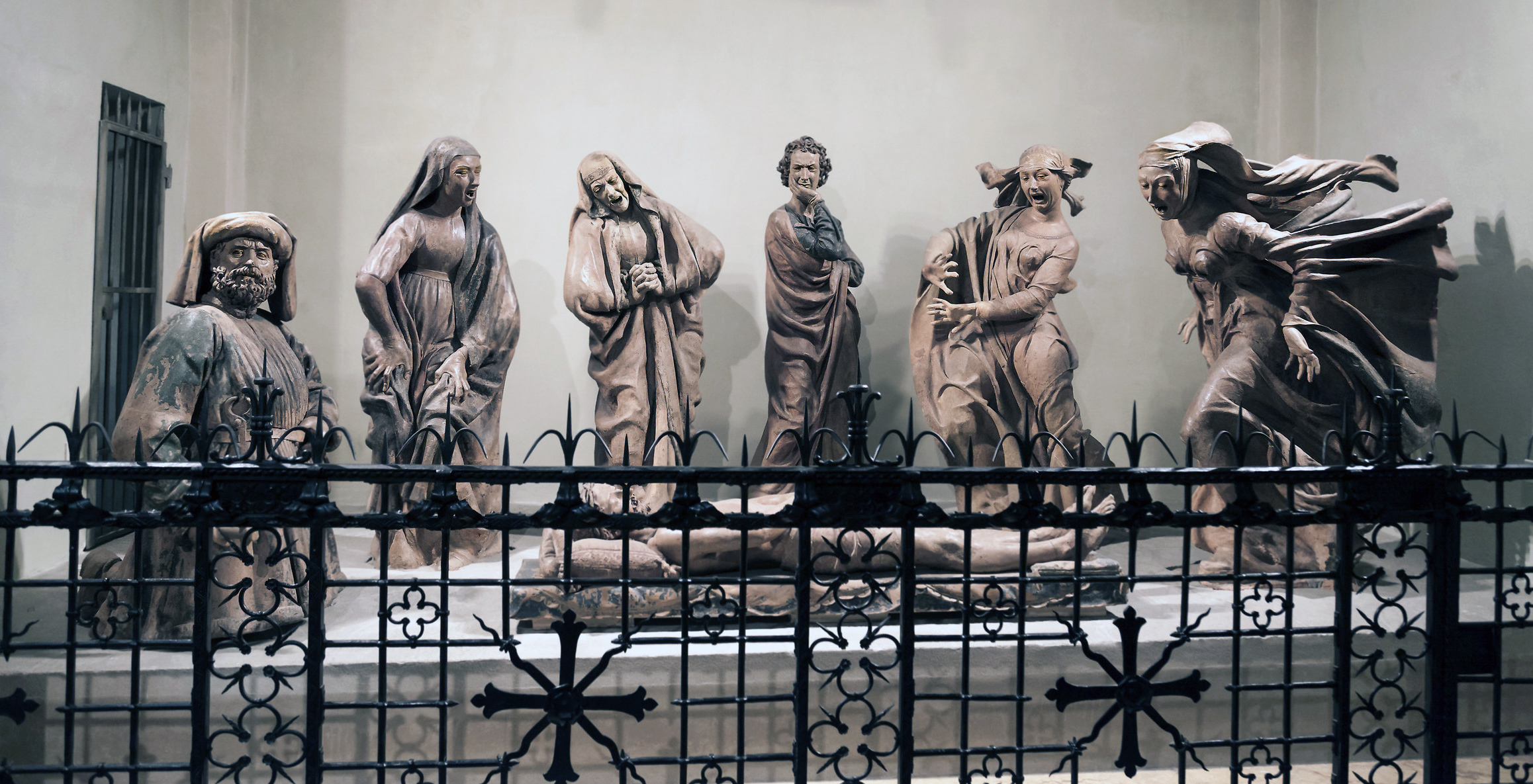 Niccolò dell'Arca, The Lamentation of the Dead Christ - Church of Santa Maria della Vita, Bologna
Back