Fabrizio Padovani
Together with Alessandro Pasotti, Fabrizio Padovani directs the P420 Gallery, founded in 2010. He is President of the Association of Bologna's Modern and Contemporary Art galleries and from 2018 has been a member of Arte Fiera's Selection Committee.

Photo by Perottino-Alfero-Botallo-Formica

Franco Vaccari
This seems the right occasion to recall a very special journey to Bologna: the journey with which Franco Vaccari laid the theoretical basis for his Exhibitions in Real Time.
It was 1971 and Vaccari had been invited to hold a solo show at Bologna's Galleria 2000. He prepared no artwork – nothing - but on the day of the opening turned the train journey from Modena to Bologna - the actual event and lived experience of the journey – into a means of asserting reality.
"I went to the station followed by two photographers with Polaroid cameras and we recorded every step of my journey. They photographed me as I brought my ticket, got a newspaper, had my shoes polished, got onto the train, got out at the Bologna station, and took a taxi. Once at Galleria 2000, I stuck the photos on a wall, put my train ticket in a box and hung it on the opposite wall. The two photographers continued to take snaps and the new photos were added to the others on the wall. So the show created and fuelled itself. People who came to see the exhibition immediately became part of it. They were multiplied, recorded and frozen in never-to-happen-again moments. In this way, the space of contemplation was swept away and a moment of action in the here-and-now created. Then, after a while, I removed my train ticket from the box on the wall, and left".
The event earned Vaccari an invitation to the Venice Biennale the following year where he was to install the famous Photomatic Cabin, designed – as Marinella Paderni puts it – to direct public attention away from the utter inanity of the media by transforming an autobiographic experience into a collective biography.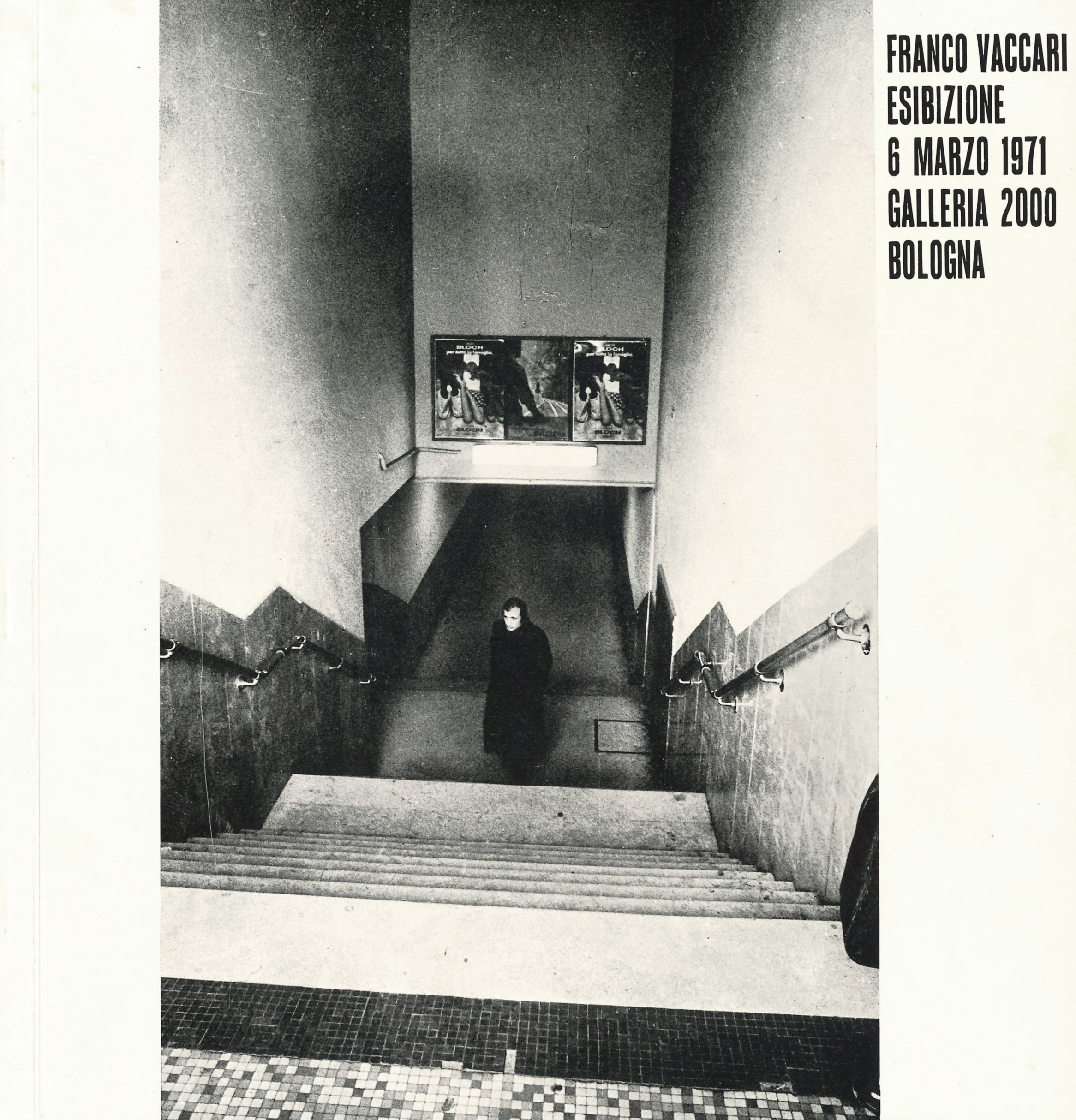 Franco Vaccari, Exhibition - 6 March 1971, Galleria 2000, Bologna
Cover of the exhibition catalogue
Back