Gianluca Ranzi
Gianluca Ranzi has worked mainly with Fluxus, Mono-Ha, Happening and Gutai, and has curated exhibitions and projects for artists such as Yoko Ono, Cèsar, Daniel Spoerri, Carsten Nicolai, Gordon Matta-Clark, Danh Vo, and Lee Ufan. He has collaborated with the Venice Biennial, the Festival of Two Worlds in Spoleto, the Osaka Museum and the Toyota Museum of Art.
For Arte Fiera 2019, he was a member of the jury for the Mediolanum Award for Painting, presented to Nazarena Poli Maramotti, represented by the A+B Gallery.


Bologna yesterday and today: Fluxus and Daniela Comani
Yesterday. Ben Vautier and I spoke about this a few months ago: about Bologna in June 1978, when GAM hosted the Fluxus tribe, led by Achille Bonito Oliva, in Metafisica del quotidiano, the show-event organised by then-director Franco Solmi. George Maciunas had died the previous month and the occasion became a tribute to Flux Pope, who had created Fluxus in 1960. At GAM, a large executive desk with a bowler hat resting on it bore the laconic message "The Boss is out."
Today. Looking at the work of Daniela Comani, a Bolognese artist living in Berlin (for example, the work in progress A Happy Marriage from 2003), I think back to that epoch-making show and, especially, to the February 1978 performance in which George Maciunas and his new bride Billie Hutching both wore white clothes and veils in the surreal Flux Wedding celebrated by Geoffrey Hendricks, in which spouses, best men and maids of honour exchanged not only vows, but roles, identities, and clothes. Daniela Comani and Fluxus share an indirect, almost evasive view of daily life, using irony to demolish dogmatic positions and debunk some of the clichés of social control (My Film History, 2014, Novità Editoriali a Cura di Daniela Comani, 2009, Perfect Day, 2017, presented in several shows at Studio G7 in Bologna). Her confrontation with history, culture, language and identity is up-close, almost hand-to-hand, a display of differences and of fluid identities by disguising, switching, or breaking linguistic codes. In effect, her destructuring of communication is also an attack on the independence of images, because by changing them she distorts them, relates them to history and therefore relativizes them. This generates the active proposal of a subject that is finally multiple and mobile, "partial and ironic, intimate and perverse" (Donna Haraway).
For Fluxus and Daniela Comani, mutatis mutandis in Bologna, it is a question of disorientation, interweaving, clouds of intermittence, conscience, and liberation from defined models and induced roles. All the best!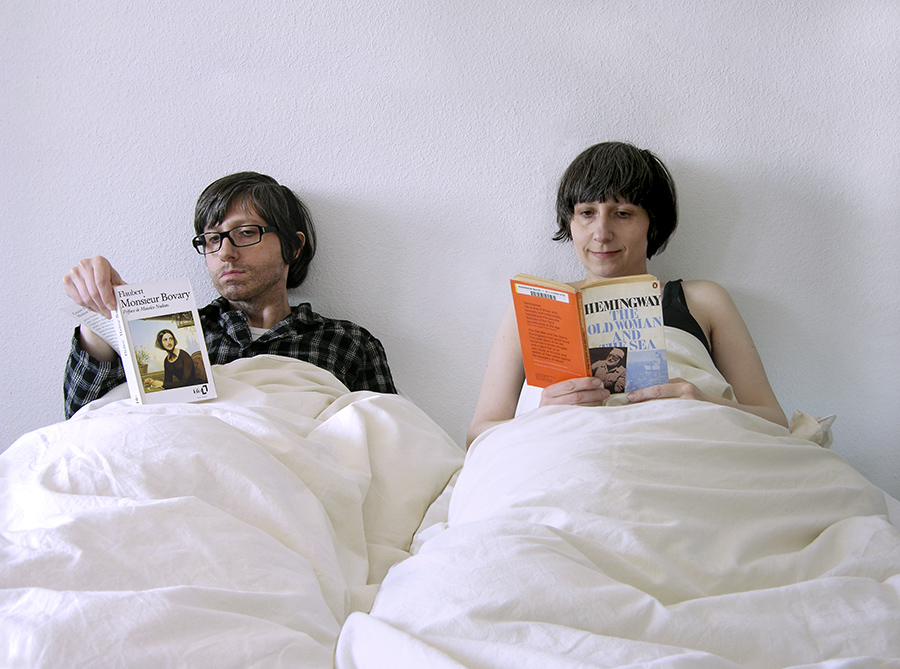 Daniela Comani, #56, 2009, from the series 'A Happy Marriage', work in progress from 2003, pigment print on photo rag 300gr., cm. 50x60 each
Back