Laura Cherubini
Laura Cherubini, critic, curator and art historian, known especially for her contributions to the study of 1960s and '70s Italian art, is the curator of the new FOCUS section of Arte Fiera 2020.
IN BOLOGNA
Alberto Garutti taught at the Bologna Academy of Fine Arts for many years. His home in Bologna was the Palace Hotel, and in 1992 he created a work of discreet charm, destined to last. Garutti had chosen the site in the context of the exhibition Territorio Italiano, curated by Giacinto Di Pietrantonio, who wanted to make Italy an open-air museum, full of works by contemporary artists (the exhibition echoed the precursor show from 1968 entitled New Landscape, created by 2 artists (Castellani and Gino Marotta, and 2 architects, Cesare Casati and Carlo Emanuele Ponzio), in which the artists were asked to provide a work for any location in Italy; unfortunately, the project was not carried out due to the outbreak of political protests in 1968).
Alberto Garutti lived in room 402 of the Palace and installed a 150x150 cm. pane of glass set away from the wall. He painted the back with phosphorescent pigment, and the luminous square still accompanies guests when they switch off the light and go to bed. For Garutti, this is art: something that exists only in a nocturnal, very intimate, very special rendezvous.
Shortly thereafter, Garutti returned to Milan, but something special happened then, too: a group of students (including Giuseppe Gabellone, Simone Berti, Stefania Galegati, Diego Perrone…) followed him there. Patrizia Brusarosco thought this "move" should be celebrated with a show, and so We are moving was created at Viafarini, which the artist curated with his diligent and astute friend Robero Daolio, the critic closest to him in Bologna. But there was something very special for me, too: in 1992 I became the head of the Art History department in Brera and so in 1994 I found Alberto again. We had met as teenagers in the late '70s in Rome, when he was exhibiting at Ugo Ferranti and I had just started working as a critic; then we met again at the 1990 Venice Biennial (I'll never forget our evenings at Colomba with Gino De Dominicis). In a way, the baton passed from Daolio to me and Giacinto; Diego, Simone, Stefania, Giuseppe and the others went to live together on via Fiuggi and thus became "ours"; the relationship among Alberto, Giacinto and me became closer and closer. This is the fil rouge that links me to that place in Bologna.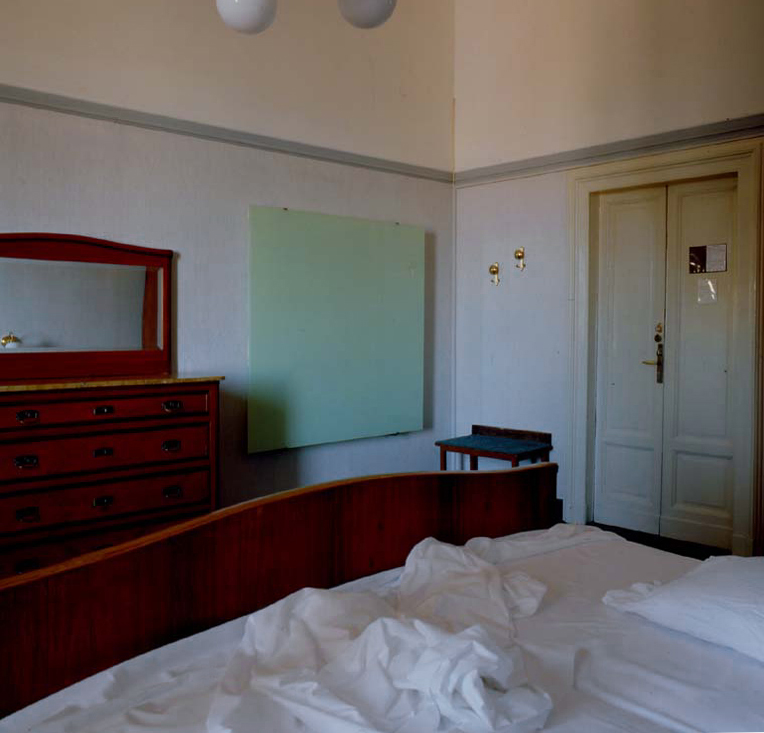 Alberto Garutti, Bedroom work, crystal, phosphorescent pigment, 150x150 cm., room 402 Hotel Palace
Collection and Courtesy Hotel Palace Bologna
Back