Laura Trisorio
Laura Trisorio is the director of the Studio Trisorio Gallery in Naples and of Artecinema - International Film Festival on Contemporary Art. She was a director of ANGAMC – National Association of Modern and Contemporary Art Galleries from 2009 to 2011, and has been a member of Arte Fiera's Selection Committee since 2012.
Maurizio Finotto, film director, author and artist, lives and works in Bologna. I met him in 2016 when I presented his animated film DISINCANTOICONICO on the poetic imagery of Luigi Ontani at the 22nd edition of Artecinema - International Film Festival on Contemporary Art, which I have directed and organised in Naples for the last 24 years.
Maurizio is Bolognese by adoption, by choice, and for amore. He came here in 1991, leaving his hometown of Cavarzere (near Venice) and a steady job in order to study art. This was the beginning of a meandering career with many successes but also some failures. His is a story that deserves telling, and that is precisely what he did with his installation "Life, Death and Miracles" at MAMbo in June 2017: about 200 votive tablets inspired by the Italian tradition of the ex voto (for grace received) describe his life, represented as the effects of marvellous otherworldly interventions. Created with recycled materials and mounted with the density typical of Neapolitan religious sites (which he visited), his ex voto are an ironic and genial reinterpretation of traditional folk iconographies and narrate important episodes in his life and career: miraculous re-growth of his hair, elimination of stammering, countless avoided accidents, and leaving his job as a dental technician due to the miraculous intercession of Saint Apollonia, the patron saint of dentists, who opportunely suggested that he enrol in art school.
The video entitled La lingua dei santi (The Language of the Saints) documents the reactions and remarks of the artist's mother and grandmother about some of the votive tablets in which he depicts them. The ex voto thus become a way to discuss unresolved family matters and intensify a deep emotional bond.
I greatly esteem Maurizio's work, especially this extraordinary project, which presents intimate autobiographical details with lightness and astute irony, asking us to ponder the role of courage in our choices and, especially, the importance of gratitude.
So, we too thank Saint Apollonia for bringing us Maurizio!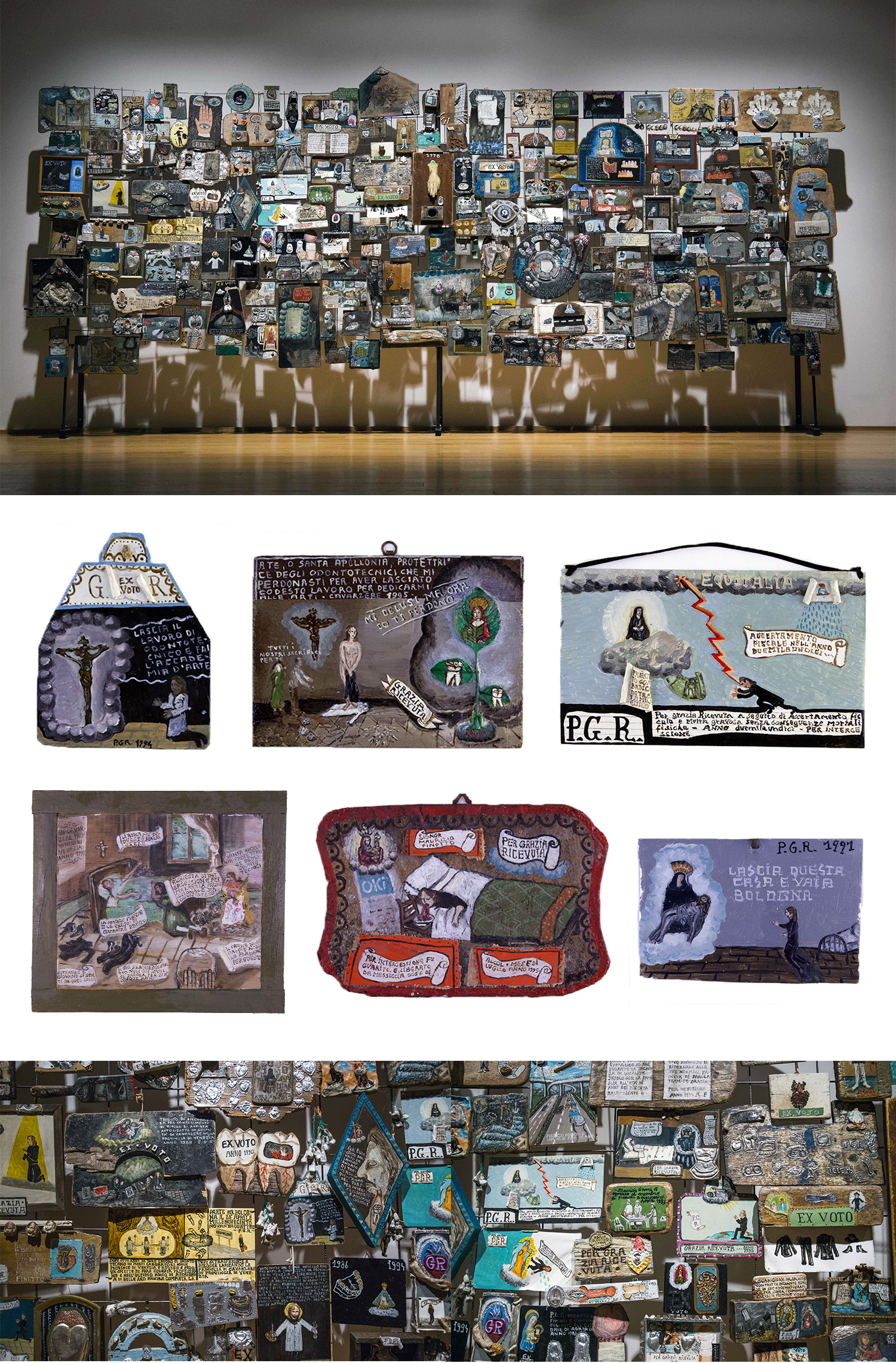 Back