Leonardo Regano
Leonardo Regano (b. Bari, 1980. Lives and works in Bologna) is an art historian, independent critic and curator. He has curated shows for public institutions (including the International Museum and Library of Music of Bologna; Mar – Museum of Art of the City of Ravenna; Museum of Palazzo Poggi, Bologna; Polo Museale of Emilia-Romagna), private collections and galleries. He was one of the coordinators of the Zero… Weak Fist project of Patrick Tuttofuoco, winner of the 2017 Italian Council Prize. In 2018 he coordinated the Bologna residence of Helen Cammock, winner of the 7th edition of the Max Mara Art Prize for Women. He is currently the curator of the "Mare Magnum Nostrum" project of Gea Casolaro, winner of the 8th Italian Council Prize.
www.leonardoregano.com

One of the Arte Fiera exhibits that I always remember with great pleasure and interest – and perhaps with a bit of nostalgia as well – is Piedistallo Vuoto from 2014, curated by Marco Scotini at the Archaeological Museum of Bologna, presenting artists from Eastern Europe and the post-Soviet Union from the '70s to today. It was an extremely cogent and effective analysis of a very complex artistic situation (geographically and culturally), which Scotini described with a consistent narrative that revealed all of its potentials and timeliness.
I also associate that year with an important personal memory: the first event that I curated for the LabOratorio degli Angeli, dedicated to Aldo Mondino. On that occasion, we launched an original format of annual monographic shows in which we compare critical research – subsequently focussing on the Bolognese scene, with projects dedicated to Piero Manai, Maurizio Osti, Luca Caccioni, Pinuccia Bernardoni, Simone Pellegrini and Maurizio Bottarelli taking turns – with the highlighting of problems concerning the conservation of contemporary art works and the installation of large formats, as presented by the restoration laboratory.
More recent years are full of memories of frenzied times and hard work on projects with which I remain deeply attached, such as the two group shows that I curated for the Direzione Generale Musei dell'Emilia-Romagna in the former Church of St. Mattia, which allowed me to approach religious themes in contemporary art (Sequela, 2017; Kahuna, 2018), and the site-specific installation of Marina Gasparini and Serena Piccinini (2019) at the Valverde Cistern.
Another memorable event was Patrick Tuttofuoco's 2019 installation at Porta Zamboni/San Donato where, with the Direzione Musei and Xing, we presented the work "Zero…Weak Fist," winner of the first Italian Council Prize and selected as one of Art City's main projects. That same year, I'll never forget my amazement as I stood before the Collection de Nuages by Leandro Erlich, which Maura Pozzati offered at the Oratorio of San Filippo Neri. Pure, almost childish enthusiasm, similar to what I felt before Erin Shireff's Son, one of the most beautiful projects curated by Simone Menegoi at Palazzo de' Toschi in 2018.
Regarding the Fair's previous edition, I loved the restyling, the decision to change the halls, and the new and greater usability of the spaces, which emphasised the curatorial look and the selection of galleries. Among the projects in the city, I was captivated by 3 Body Configurations, curated by Maura Pozzati and Fabiola Naldi, a show that was real research and not just an "event."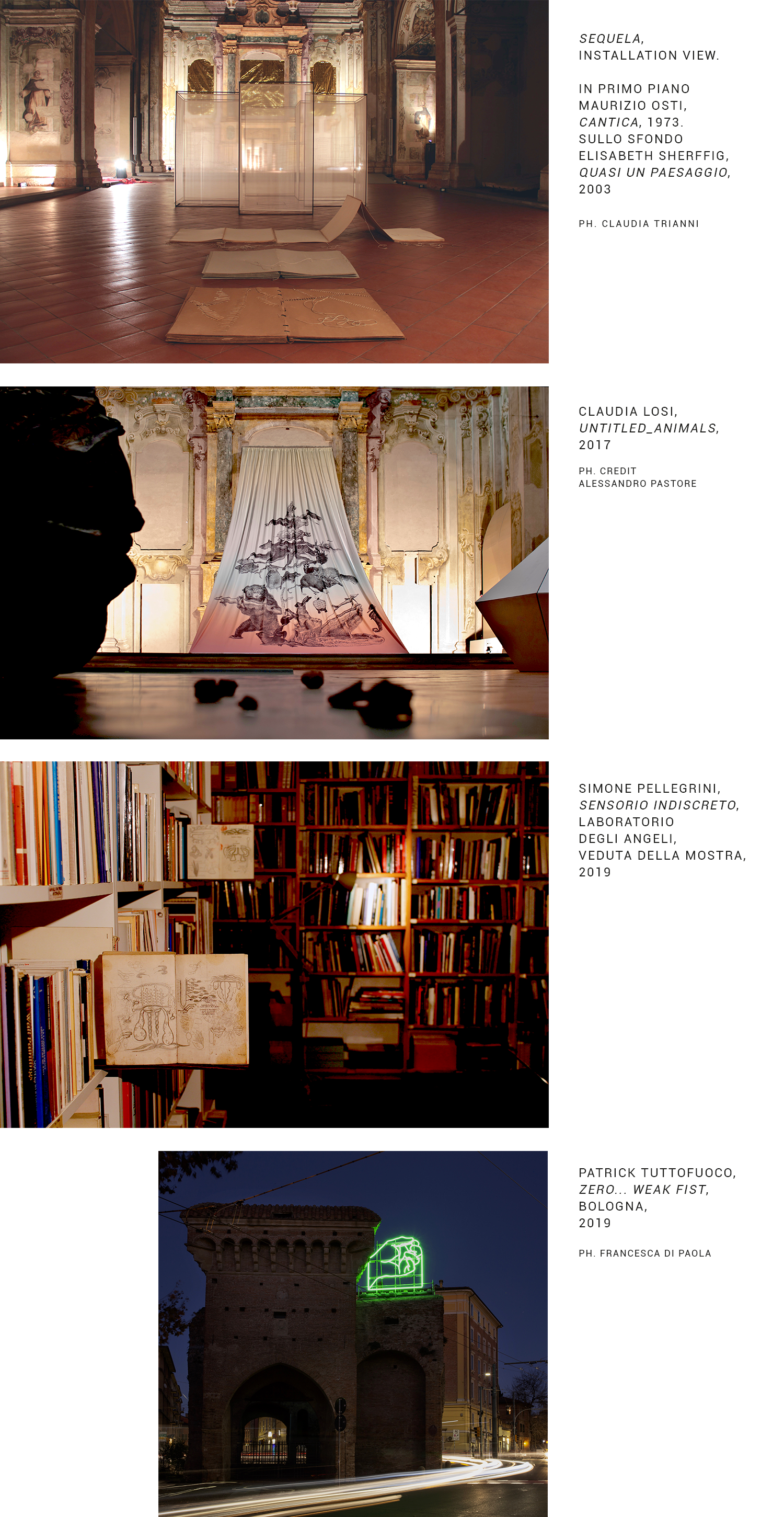 Back