Luca Caccioni
Luca Caccioni was born in Bologna in 1962. He attended public school, art high school, and then the Academy of Fine Arts in Bologna.
He taught painting in Palermo and Brera (Milan), and since 2002 has been the Chairman of Visual Arts and Painting at the Biennial of Bologna's Academy of Fine Arts.
Since the 1990s he has had a very active career in the fields of painting, drawing, and installation, both in Italy and abroad. He has had solo exhibitions in galleries such as Spazia (Bologna), Marconi (Milan), Studio la Città (Verona), Gentili (Florence), Oredaria and il Segno (Rome), Carzaniga (Basel), Greene (Geneva), Marcorossi (Milan), Giacobbi (Majorca), Sales (Barcelona), Vannucci (Pistoia), Otto Gallery (Bologna), Galvani (Toulouse), and Lorenzelli (Milan).
He has had numerous solo exhibitions in museums and public institutions, most recently at the Museum of Lissone and at the Museum of Contemporary Art of Saint Etienne, France. He lives and works in Bologna and in Tuscany, where he has a second studio.
At Arte Fiera 2020, curator Eva Brioschi included a work by Luca Caccioni in the exhibit "Opera Aperta." http://www.artefiera.it/en/special-projects/projects-at-the-fair/courtesy-emiliaromagna-brlopera-aperta/9098.html
A place of lost painting.
Just outside the gates, a short walk from the city centre.
So important that this year, during Arte Fiera, I advised students to see it along with some of the many events in Bologna.
I included slides of this place in a seminar I held in January on Time and Memory for contemporary and visual arts and in a lesson on painting, strongly recommending that the visit be made entirely on foot.
Students, just like as pilgrims, consciously or unconsciously love when a path is created. Any kind of path. It probably has to do with rite, discovery, arrival.
The former Olivetan convent is at San Michele in Bosco and, even though it is much older, its current form dates to the 16th century. Now, and for more than a century, it houses the Rizzoli Orthopaedic Institute.
Completely (or almost) forgotten – I've never seen anyone else there during my many visits – it has a Cloister called "Octagon of the Carraccis" with frescoes by the Carracci family, by Guido Reni, and by the pupils of the Accademia degli Incamminati.
Just a quick look makes it clear that the almost mystical silence of this architectural and scenic installation is accompanied by total abandonment and neglect of the frescoes, which have practically disappeared. But this situation, magically and almost inexplicably, produces an astonishing, extremely conceptual vision made of emergences of colour, of earth and lapis lazuli, of dizzying shapes, tangles, faces and features that appear and disappear, dancing in the presence of the light and of the observer, and of narrating residues and of memories – human, earthly, heavenly – dreamed once again.
Here, painting has no artists or locations; it's not figurative or abstract, old or new. Here, there's only enchantment.
And hypnosis.
Someone said (as usual, to explain it all scientifically) that the frescos were painted in the early 1600s using oil paints, and therefore could not survive very long.
I constantly pray that they'll never be touched or restored.
I've just now realised that the slides at my seminar matched some of the images of the cloister chosen by Rothko, Licini, and Richter.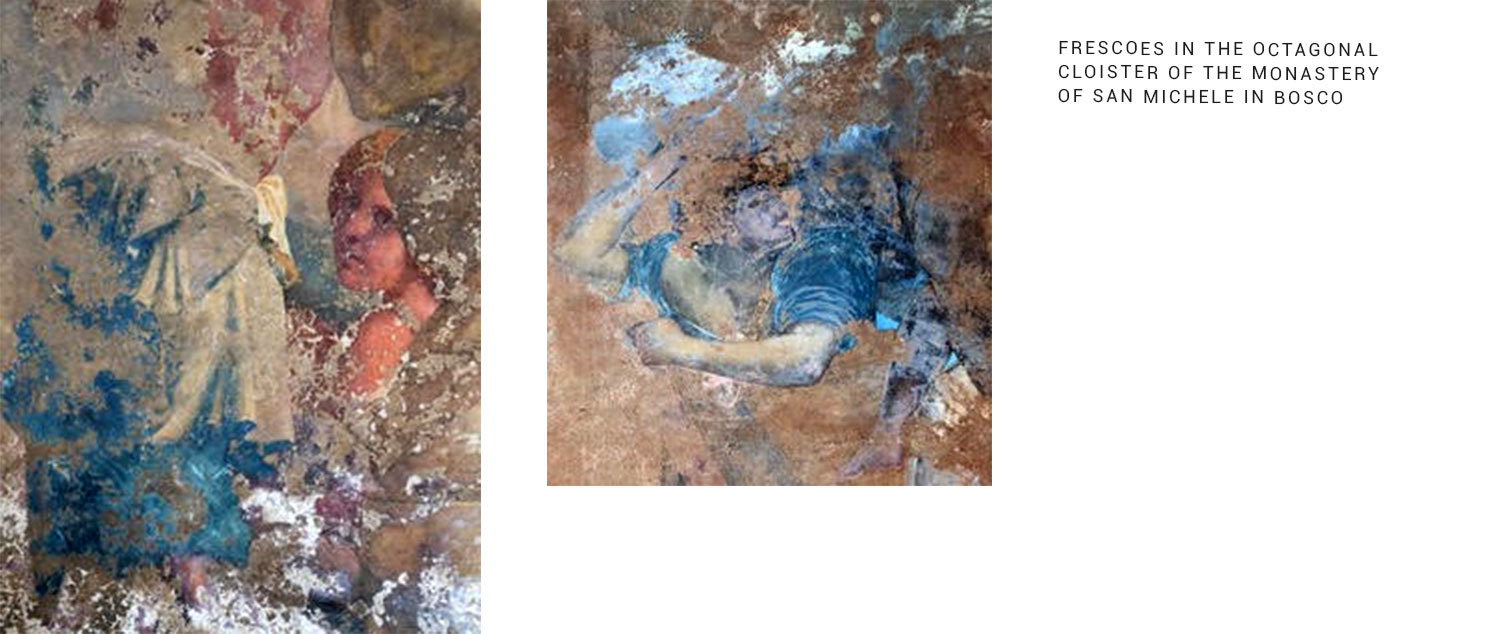 Back