Ludovico Pratesi
Ludovico Pratesi was born in Rome in 1961. He contributes to the Italian newspaper "La Repubblica" and is a professor of contemporary Italian art at the Academy of Fine Arts in Urbino. He was the Artistic Director of the Peschiera Centre for Visual Arts in Pesaro until 2017, the scientific curator at Palazzo Fabroni in Pistoia from 2009 to 2011, the Artistic Director of the Conventino di Monteciccardo from 2008 to 2012, and President of the AICA (Italian Association of Art Critics) from 2006 to 2010. He is currently the Director of the Guastalla Foundation for Contemporary Art. He has published a series of essays, including "Arte come Identità, Perché L'Italia non ama più l'arte contemporanea," and "L'arte di collezionare arte contemporanea nel mondo globale" (Castelvecchi, 2019).
He was a member of the jury for the Wide Art Award at Arte Fiera 2020.

My visit to ARTEFIERA 2020 was an opportunity to discover the work of Irish artist Damien Meade (b. 1969), presented by the CAR Drde Gallery in the Pittura XXI section curated by Davide Ferri. I was especially interested in the portraits, painted with great attention to the texture of the image, since Meade is primarily a sculptor and therefore views his subjects in three dimensions. In these works, the face is represented as a sculpture, whereas the bust is just hinted at and almost undefined. He starts working with plaster models that he photographs and then paints on canvas, using a technique based on the layering of superimposed glazing, similar to Venetian Renaissance painters. Female and male faces emerge from monochrome backgrounds with pensive and melancholy expressions, bringing to mind surrealist portraits on the one hand and paintings by Michael Borremans on the other, their rosiness suggesting the passage of time, obstructed by cold and mindful painting. As Davide Ferri points out, "Meade's painting is situated on the ridge of two materialities – the painting and the subject represented – that attract and dialogue with one another." A disconcerting encounter between Giovanni Bellini and Auguste Rodin, making Meade one of the most interesting contributors to Pittura XXI.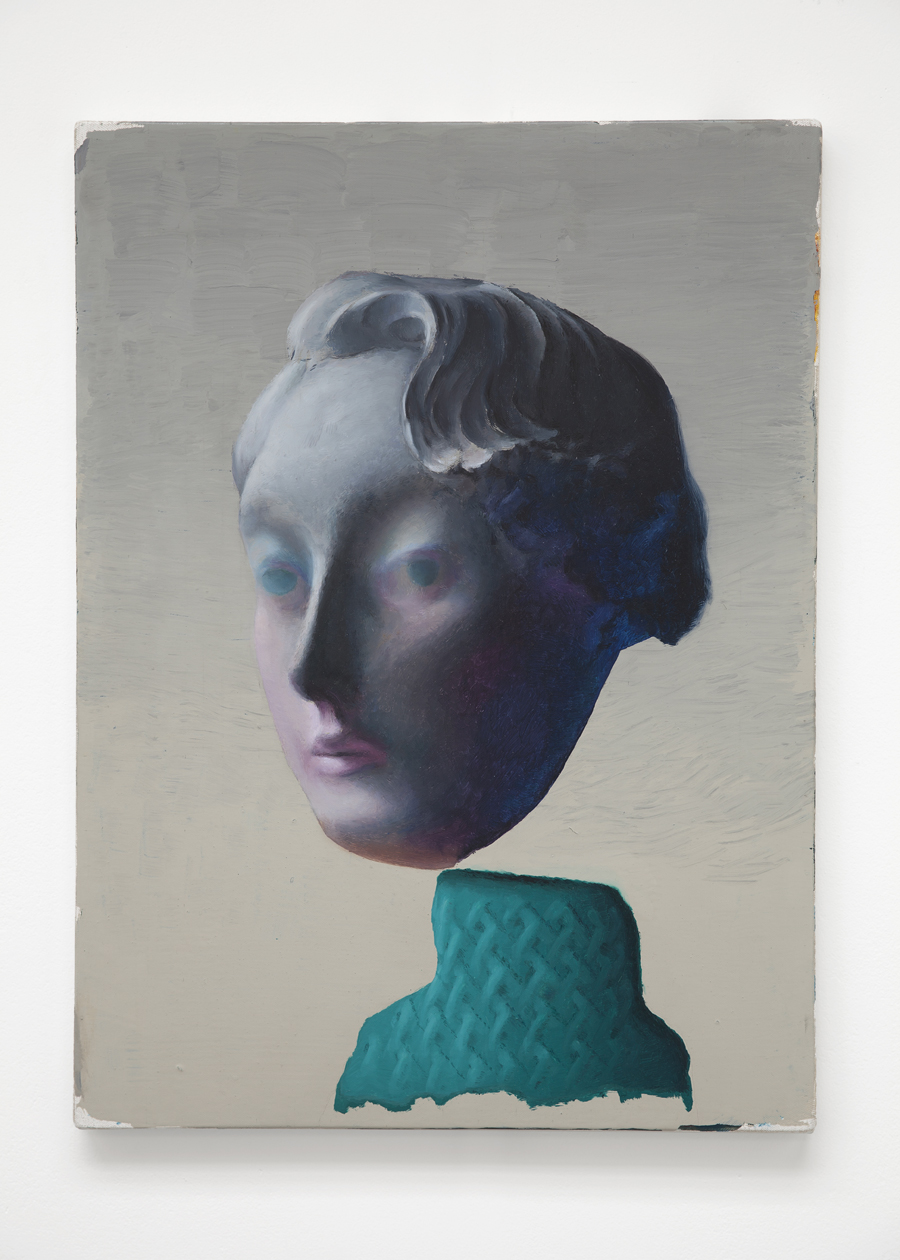 Damien Meade, Untitled 4, 2019, oil on canvas, 65.5x48.5 cm - Courtesy CAR DRDE
Back