Massimo Mezzetti
Massimo Mezzetti, 57, was born in Rome. He moved to Modena 30 years ago and now lives in Bologna.
He studied humanities and theology, and became involved in politics at an early age, when political commitment meant something entirely different than it does today. He has always been enthusiastic about culture, and his administrative work has concentrated on this for many years. He has been the Emilia-Romagna Region's Councillor for culture, youth policies and policies for legality since 2010.


For many years, the Emilia-Romagna Region has had a law that supports the study, research, and dissemination of its work on the "memory" of 20th century history. But one can and must protect the memory of all forms of art so as not to forget the wounds of history. And Ustica is one of those wounds.
"Remember" derives from the Latin "re-cordor" and is therefore linked to "re-cor," so remember means "bringing back to the heart," the seat of memory. But remember also means re-tune ("re-accordare"), i.e., make the heartstrings vibrate in unison, just like they vibrated when the recalled experience was first felt.
This thought always accompanies me when I go to the Ustica Memory Museum, created in Bologna in 2007 by the Association of Relatives of the Victims of the Ustica Disaster, led by Daria Bonfietti. It doesn't look like much from the outside, but there's a glittering diamond set in the small Zucca park, with its playing children and the surrounding buildings in the Navile district.
Here, with powerful and essential simplicity, the work donated to the city by Christian Boltanski, one of today's great artists, is committed to preserving the memories and wounds of time, convinced that art is still public testimony. This is a deeply moral setting, corresponding to the sympathetic and working-class nature of the Bolognina neighbourhood. There's something dizzying in Boltanski's work, which speaks to us in a form that is both political and intimate, reminding us that we must remember.
The hangar-museum holds the remains of the Itavia DC 9 that was shot down near Ustica, arranged as a ghostly, full-scale skeleton. Many pieces are missing, just like the gaps in the court case, which the Association, day after day since 27 June 1980, have forcefully and adamantly demanded be brought to light.
81 lamps, 81 black mirrors reflecting our faces, 81 voices whispering from 81 loudspeakers, 81… 81… 81… the number of people who died in the disaster. The lamps switch on and off with the rhythm of a deep, slow breath, as when we fall asleep - or at times of great awareness.
This is the beginning of the French artist's deeply moving installation, which I invite you to experience with both heart and mind.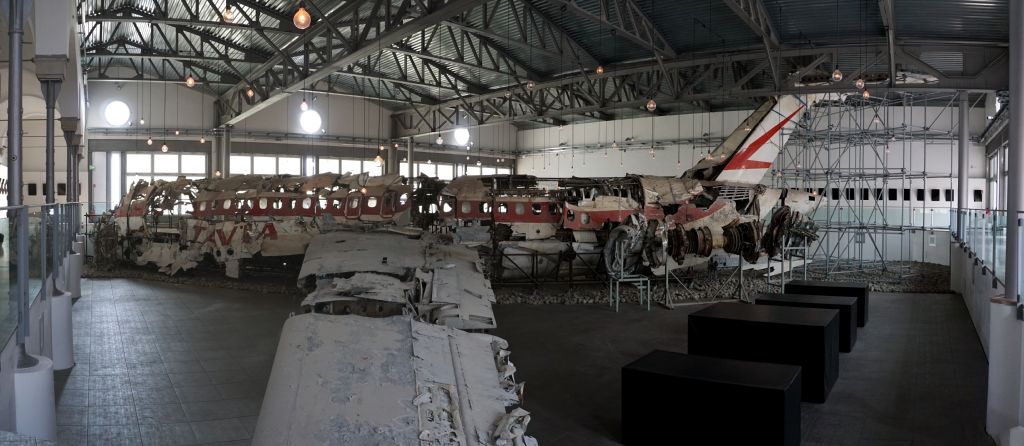 Ustica Memory Museum, Bologna
Back