Matteo Lepore
Matteo Lepore is Bologna's City's Counsellor for Culture, Tourism and Civic Imagination. He took over his current position in 2018 after seven years as Counsellor for the Economy and City Promotion.
Bologna is the ideal street art city - a bit metropolitan, and a bit provincial. Since the high speed train line has made Bologna an hour from Milan and two hours from Rome, our geographical position has changed. We have become a much more important destination than before, with thousands of people choosing Bologna as a place to live. In fact, Bologna has a population turnover every 10 years. It's a paradox that one of Italy's oldest cities is rejuvenated by its 80 thousand university students. I was born and grew up here in the high-rise housing of Via Torino in the Mazzini neighbourhood. In the 1990s, once outside my house, I could feel the existential emptiness of the nearby Po plain. But turning the corner, I felt I was somewhere between Seattle and New York. It was a mix of community centres, parish halls, hip hop, graffiti, collectives and social centres.

The posthumous exhibition "Arte di frontiera: New York Graffiti", in honour of Francesca Alinovi was held at the GAM in 1984, and was a fundamental event for the subsequent development of Italian and Bolognese artists. The first generation of avant-garde street artists Haring, Basquiat, Cutrone, Futura 2000 came to a city full of murales dating back to the student protests of 1977. Years were to pass before the day, at the age of 19, I was able to lend a hand to artists like Dado, Rusty and Blu to paint a 10 metre high wall just behind my house. 15 years later, Blu was to wipe off his own large murales in protest against the 'plundering' by Bologna's private museums.

One of the major projects is 'FRONTIER La linea dello stile' with which Bologna promoted and developed Writing and Street Art, among the most interesting expressive forms on the contemporary art scene. Italian and foreign artists painted artworks on the walls of popular neighbourhoods around the city.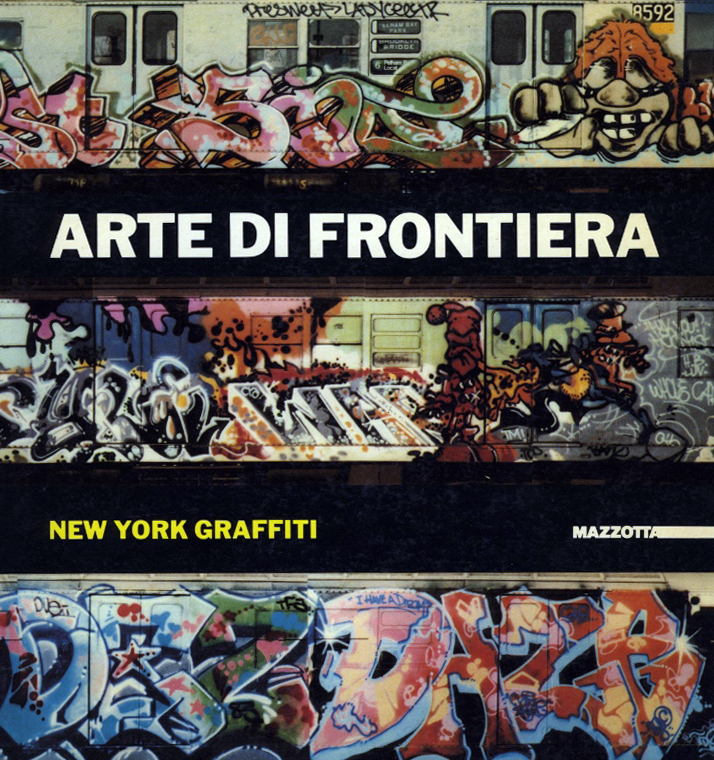 Arte di frontiera. New York Graffiti, exhibition catalog, Galleria Comunale d'Arte Moderna of Bologna, March - June 1984 (cover)
Back