Maura Pozzati
Maura Pozzati is an art historian and art critic, and a professor of History and Methodology of Art Criticism at the Bologna Academy of Fine Arts. She specialises in contemporary art and curates exhibitions in public and private spaces. She is a Director of the Fondazione del Monte di Bologna e Ravenna, with responsibility for cultural affairs, and a Director of the Istituzione Bologna Musei.
For Arte Fiera 2019, she was a member of the jury for the Antonio and Annamaria Maccaferri Photography Award.
Photo by Alessandro Ruggeri
It's strange than in all of the previous contributions to the Arte Fiera Observatory, no one every spoke about the Bologna Art Fair, preferring personal recollections of an artist, a specific exhibition, or an important location in the city. But I want to speak about the Fair itself, having gone as a child when it was held in the summer along with the trade fair, where I was fascinated by sellers of potato peelers and mincers and by the Fiat chocolate stand.
My father Concetto took me every year, and as soon as we got there we went straight to the de' Foscherari stand, which not only exhibited works of art but was also a place to meet intellectuals, artists and critics, who would stay and talk for hours. So my recollection is linked to this Bologna gallery, to its old address on Via Goidanich, when as a very little girl I sat for hours on the dark rug while Franco Bartoli, Vittorio Boarini, Pietro Bonfiglioli and my father talked, argued, organised shows, discussed politics, and smoked. I remember enormous clouds of smoke, a white-stemmed ashtray overflowing with ends, and the persistent odour of Franco's Toscano cigar.
I can still see those two ruined leather chairs, of undefined vintage, made by Dino Gavina – seeing them again this year at the Arte Fiera stand in memory of Pasquale Ruffo, recently deceased, was very moving – along with Ceroli, photos of the setups, and the catalogues – so artisanal, so beautiful, most of the time paged by Pirro Cuniberti. It is this intense bond with a place, with that gallery whose telephone number I had already memorised when I was 4 (since my father was there every evening) that I wanted to talk about, because it is thanks to those wonderful encounters (above all with Pietro Bonfiglioli, in whose home, many years later, we would patiently read the Divine Comedy to prepare for my school leaving examination) and to the exhibitions at the de' Foscherari, to conversations heard, to artists who were there, that I am now who I am and write about art … even if, to tell the truth, I wanted to do something completely different…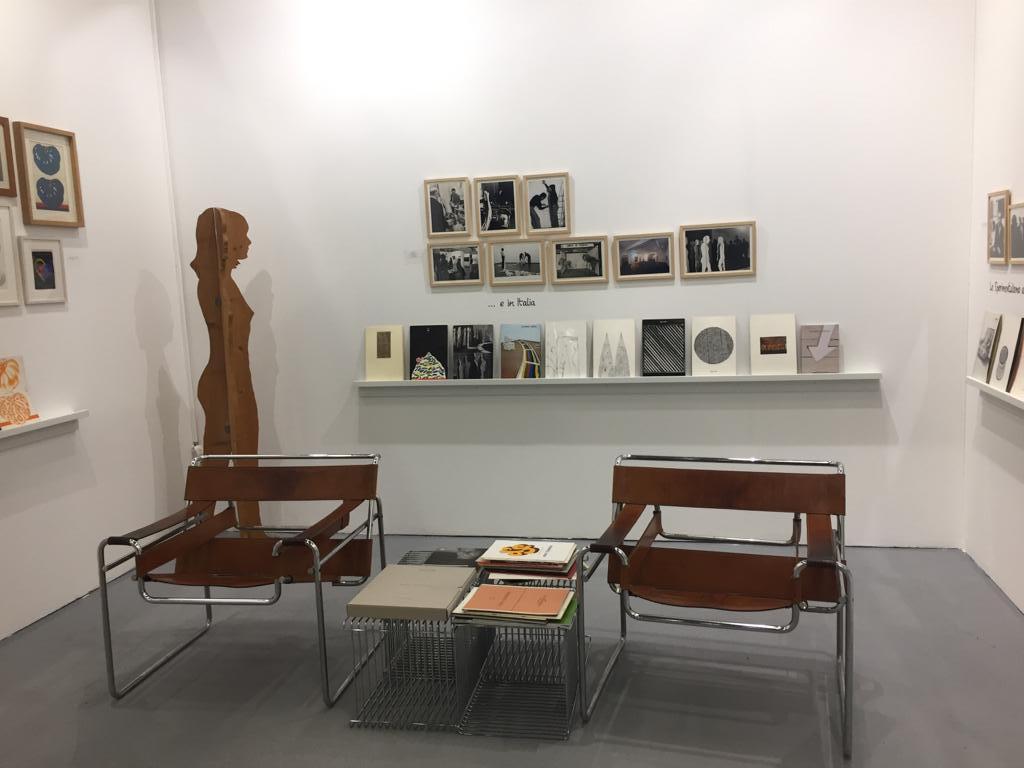 "Omaggio a Pasquale Ribuffo e Franco Bartoli", Arte Fiera 2019, pavillion 26 (Photo by Elena Ribuffo)
Back