Veronica Veronesi
Veronica Veronesi is the director of GALLLERIAPIÙ (Bologna, 2013). The gallery is a versatile space for contemporary art, focusing on research and artistic experimentation. In addition to its schedule of shows, the gallery regularly hosts a wide range of performance, relational and participative projects and productions. This research is done in collaboration with OC!WR web radio, an online platform of carefully selected eclectic and experimental music, permanently hosted in the gallery's basement.


Gloria and Simone have invited me to write for the Observatory, most of all to remember. Remembering is a great way to escape from the reality of these days of lockdown, and I'm happy to go back in time to recall bits and pieces of places, people, books, exhibits, moods, hypertext links, appropriations, and music in Bologna: nonlinear memories of times and situations that have influenced my worldview. Digressions within digressions, tenses that confuse the flow of events. The order is nonlinear but everything is in a single time span.

Bologna 1996 / 2006: real and spontaneous
Culture is a personal affair, and my rule, both then and now, was that arts and languages should be completely merged and should always have consequences. Those were the early years of globalisation, and travelling still offered surprises. Bologna, like London, Amsterdam, Paris and Berlin, enjoyed the splendours of the club culture that had exploded in England in the late '80s with the "Second Summer of Love." Back then, GALLLERIAPIÙ and its "aesthetics with consequences" wasn't even a glimmer on the horizon. Sa Finca Cheyenne was my homemade fashion line, a kit of multifunctional clothes for urban survival – a few simple shapes that you could adapt as needed during a long and busy weekend in Bologna.

Thursday
6 PM Giada, Matteo and I meet at Sesto Senso on Via Giuseppe Petroni, a club/cultural association that presents art shows and DJ sets; in a corner you can swap CDs. It's in the university area, a few steps from Piazza Verdi, and attracts a sundry mix of students, curators, clubbers. Unpretentious but full of content. Over the years, it has presented shows by artists like Ericailcane, Dragoni-Russo and Andreaco, among many others. You practically have to stop here before a night on the town. In the background: Depeche Mode, "Useless" (Kruder & Dorfmeister Mix), 1997
10 PM Tonight L'ultima cena (the fashion show by Valeria, performer, designer and owner of Le Giraffe, the legendary shop on Via delle Moline) debuts at Link. If performing is also supposed to transmit energy, the show put on by Valeria and her performers/customers was just perfect: irreverent and upsetting, it marked my relationship with the idea of a body displaying itself.
Link on via Fioravanti is definitely my favourite place. I go there very often, even alone and midweek. Before tonight's show I bought a book by Hakim Bey, T.A Z. Zone temporaneamente autonome, at the table run by the guys who would later open Modo Infoshop, the historic bookshop on via Mascarella. Bey writes about creating self-managed spaces to elude institutional spaces and formal structures imposed by social control.
Midnight I lose sight of Giada and Matteo but meet Elisa, and we go to the black room in the basement, where we lose each other in videos projected in an immersive environment. There are enormous cushions to stretch out on and lots of glass cabinets with insects and exotic animals that remind me of the sculptures at the spot created by i Mutoidi, the collective in Sant'Arcangelo di Romagna. The evening continues with a live set by Plastikman. The shows at Link were always top-notch and could still be considered avant-garde, with performers like Pan Sonic, Aphex Twin, Jeff Mills, Mike Banks or Red Snapper. There were various community centres like Link throughout Europe, such as Melkweg in Amsterdam, Rohstofflage in Zurich, and Tacheles in Berlin. It was great to be part of an active community, and I sensed that something very spontaneous was happening. Bologna was always open to change and to receptive to avant-garde art movements like electronic music: the city attracted young people from all over Europe. In the background: Emmanuel Top, So cold, 1997
Friday
6 PM Federico has started working at his mother's press office, Studio Pesci, the first press office specialising in contemporary art. We go to the inauguration of Arte Fiera. I wear a red t-shirt with a black "Wild Disney" print by gruppoZero (Marco De Barba and Nicola Mancon), a notorious Bolognese collective. They have an atelier/gallery called FUCKTORY on via San Carlo where they work on a variety of activities (performances, music and videos) and where I recently saw the show American Nightmare, in which they asked several local personalities to customize a plaster Statue of Liberty that was reduced to a skeleton and, instead of the torch, held a sub-machine gun. The stars of this show come from the widest range of fields: comic strip, drawing, painting, writing, fashion, set design and net-art, and what they all had in common was the city of Bologna. The statue was dressed by Cuoghi Corsello, Riccardo Benassi, Dado, and Rusty (to name just a few).
FUCKTORY archive: https://www.flickr.com/photos/fucktory_art-gallery/albums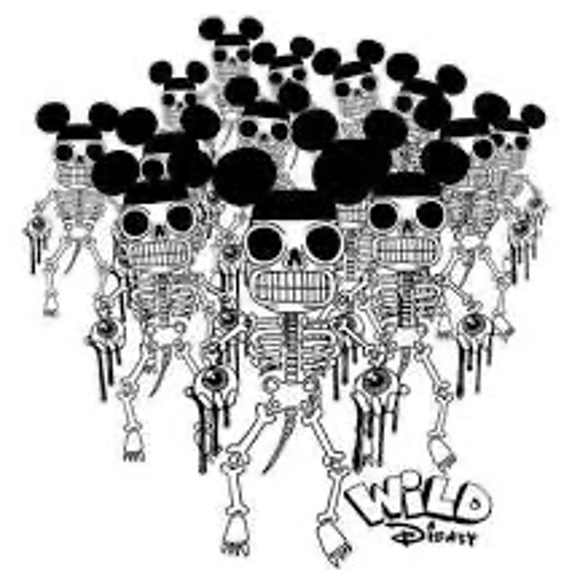 ("Wild Disney" print by Gruppo Zero)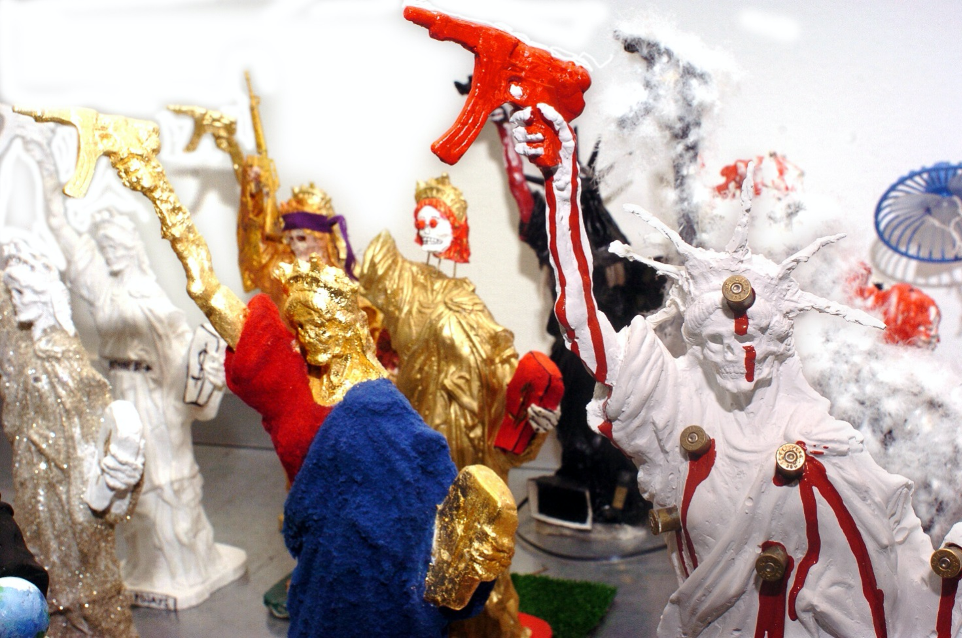 (American Nightmare @ FUCKTORY GALLERY)

We get to the fair and walk down the corridor near the ticket window at the Piazza della Costituzione entrance. A man wearing a jacket and tie is shouting: That's Contemporary, That's contemporary, That's contemporary. An impromptu performance: fairs have always provided an audience for performers seeking visibility. It was all very strange, and I started to wonder, what the fuck is this contemporary?! For the philosopher Peter Osborne, the contemporary is an "operative fiction": essentially an act of productive imagination to the extent to which it performatively projects a non-existent unity onto the disjunctive relations between coeval times (Peter Osborne, "The fiction of the Contemporary" in Anywhere or Not at All. Philosophy of Contemporary Art, Verso, New York, 2013).
The fair has a beautiful section for publishers. Federico subscribes to PLAGES, an art magazine put out by Roberto Gutierrez. A real treasure for people who love indie publishers. Federico buys a work of Street Art by Space Invader in a French gallery: the gallery owner is Magda Danysz. The fair hosts many international galleries, and those are the ones that attract me the most. Who knows why.... Just a few years later, Federico and his mother Giovanna will help create Arte Libro, the art book festival. Who knows if, along with his experience in the press office, he was influenced by that day at the fair?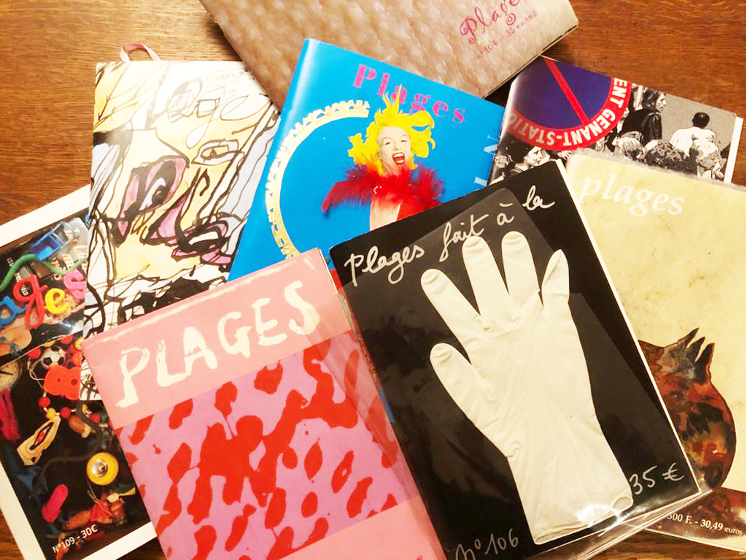 (Covers of Plages Magazine)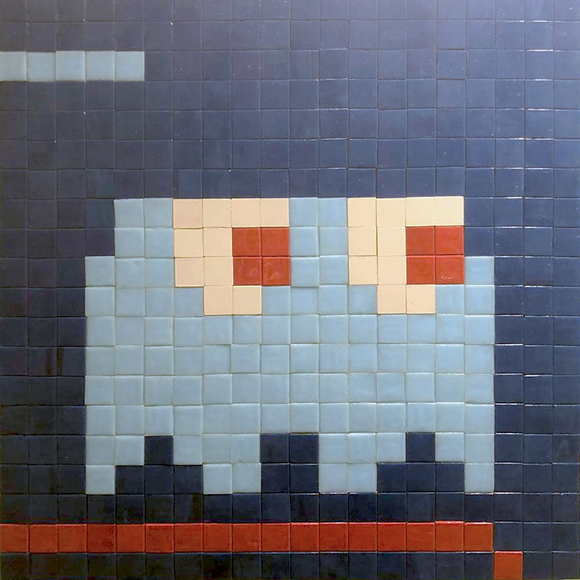 (Mosaic by Space Invader – Collection of Federico Palazzoli)

10 PM We run to Palazzo Re Enzo to see NetMage, the electronic art festival. It differs from the typical clubbing scene because it attracts people with different mind-sets and aptitudes, all eager for new experiences. Thanks to situations like this, Bologna was one of the European capitals of culture that year. The festival leaves me completely disoriented: screens placed in unusual positions multiply narrative traces, creating personal points of view and inducing viewers to reconsider their position in the space. Multidisciplinary artists such as Socìetas Raffaello Sanzio - Romeo Castellucci, Kinkaleri and Studio Azzurro inaugurated the first editions of the festival, which in later years hosted the most representative players on the national and international live art scene.
Saturday
4 PM Fausto and Giada have rented a lorry and I'm helping them set it up. We leave the Livello 57 car park and follow the other lorries toward the ring road. The Municipality of Bologna has authorised the parade so we can drive through the city, and the lorries, playing techno and trance music, can stop at the Giardini Margherita. The Livello 57 community centre has brought Berlin's rave parade model to Bologna. The Antiprohibitionist Street Rave Parade is introduced. What would bring up to 100,000 people into the streets to follow lorries blaring music? "According to the anthropologist Ulf Hannerz (1998), a series of special conditions in Bologna generated a form of cultural serendipity, i.e., a high concentration of events, images, and people who live in close proximity in a single place and have easily found opportunities to create new cultural forms. On the other hand, according to Geoff Stahl (2008), this condition takes the form of an insistence, a social persistence of a cultural scene, a demand and a desire that the cultural life of a city may transform itself into something truly important and different" (Simone Nigrisoli for sociologicamente.it, 2018).
8 PM The generator breaks down. Our lorry goes silent and has to leave the parade. But we certainly don't, and we keep on dancing to dawn☺. In the background: A Positive Life, Warehouse 5am


2020: Metropolitan Bologna
The Municipality has declared that Bologna is now a metropolitan city. A little less occupied, cleaner and more gentrified, it remains culturally active. Yesterday's actors are all a little less punk, perhaps a bit more capitalist (Matt Mason, The Pirate's Dilemma: How Youth Culture is Reinventing Capitalism. Free Press, New York, 2008), and continue to make a profound contribution to the city's cultural scene.
GALLLERIAPIÙ opened in 2013 in the Factory of the Arts cultural district, the product of experiences in those years and in those places, always searching for aesthetics with consequences.
"A place to be, say, maybe understand, certainly to participate … good luck!" (Raffaele Gavarro)
Back