Roberto Grandi
President of the organization grouping Bologna museums (Istituzione Bologna Musei), Roberto Grandi was Bologna City Counsellor for Culture from 1996 to 1999. From 2000 to 2009, he was Bologna University's Vice Rector for International Relations. The author of books and papers on diverse aspects of mass communications, he has taught at Bologna University and prestigious universities in the USA and China.

First there was Joachim Murat, a brave condottiero, Marshal of France and husband of Napoleon Bonaparte's sister, Caroline. As king of Naples, he challenged the ancient régime of southern Italy, modernizing the state and promoting the principle of equality. When, in 1815, the Congress of Vienna gave his kingdom back to the Bourbons, Murat declared war on Austria. Confident of rallying the support of a disgruntled populace, he landed in Pizzo Calabro with about thirty soldiers, and was promptly captured. "Straight to the heart but spare the face", were his last words to the firing squad. His body was never released.
Joachim Murat's daughter, Letizia, wife of Guido Taddeo Pepoli, was a freethinking woman of liberal ideas. Nicknamed the Queen of Bologna, she hosted a fashionable sophisticated salon where art, culture and politics were widely debated.
Lastly, there is Vincenzo Vela from the Swiss canton of Ticino, one of the most illustrious sculptors of the mid-19th century. His works include the statue The Last Moments of Napoleon, presented to great acclaim at the 1867 Parisian Salon, and the high-relief entitled The Victims of Labour, a moving tribute to the workers killed during the construction of the St Gotthard railway tunnel.
Now we go to Bologna's Certosa Cemetery, walking towards the Colombano room. At the end of a long corridor, we see a tall imposing statue of a soldier in an elegant ceremonial uniform surrounded by the symbols that had made him famous: French imperial eagles, a cannon under his left foot, a field marshal's baton in his hand. Destiny crossed the paths of Joachim Murat, Vincenzo Vela and Letizia Murat Pepoli, who, with typical female astuteness, outwitted history when she commissioned Vincenzo Vela to design her tomb. By having her portrait only on a medallion at the foot of the statue, she in fact erected a tomb to her father that the Bourbons and history had denied him fifty years earlier.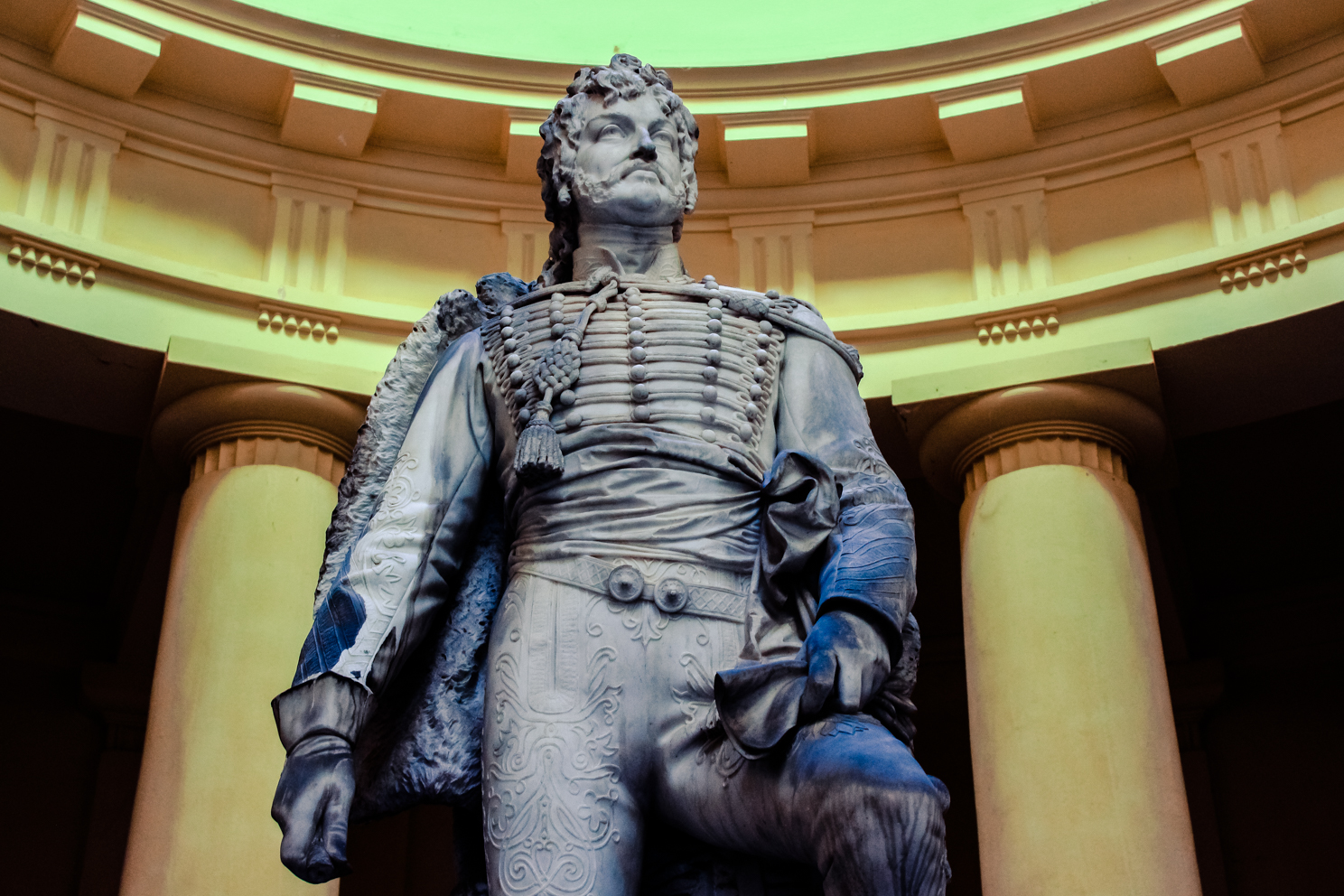 https://www.storiaememoriadibologna.it/monumento-murat-1174-opera
Back