Simone Menegoi
Simone Menegoi (b. Verona, 1970) is a contemporary art critic and curator. From 1997 to 2003 he worked mainly as a journalist, writing for Italian newspapers such as Corriere della Sera. Since 2004, he has curated exhibits in public and private institutions in Italy and abroad. His writings have appeared in publications by some of Europe's most prestigious institutions.
He has been the artistic director of Arte Fiera since 2018.

I spent my university years in Bologna (Philosophy, course in Aesthetics): I enrolled at the University in the late 80s and studied and lived in Bologna until 1993. In those years, the city had a very lively arts scene, as demonstrated by (among other things) a 1991 show that combined visual arts and music (Nuova Officina Bolognese, curated by Adriano Baccilieri, Roberto Daolio, Walter Guadagnini, and Dario Trento, at the Galleria d'Arte Moderna). Among the invited artists were Luca Caccioni, Cuoghi and Corsello, Igort, Eva Marisaldi, Alessandro Pessoli, and Grazia Toderi, many of whom were habitués of Gino Gianuizzi's Neon Gallery, which at the time presented some of the most interesting and newest contemporary art in Italy. 1991 was also the year the Isola nel Kantiere closed (by forced evacuation). This occupied community centre had launched Italian hip hop and would soon be reincarnated with the name Link Project, an urban experimentation lab that would superimpose and hybridise visual arts, cinema, music, and theatre.
But I was blissfully ignorant of all this. I spent all my time studying, and aside from my daily walk (home-university-library) I rarely strolled around Bologna. In addition, even though I was already interested in contemporary art, my tastes and interests were way behind the research being conducted in those days. While Eva Marisaldi transformed Neon into a marsh in which you could really drown (La portata umana è nulla, 1992) and Flavio Favelli took his first steps as an artist at Link, I was still struggling with Joseph Beuys, trying to understand whether or not I liked his works (seen only in books, by the way). In my semi-autistic isolation, I let in only a few strange spray paintings that I saw more or less everywhere in the city - even in the reading room where I studied: a big laughing face, a strange flying goose with veeery long legs….
The shock of New Art, which suddenly synchronised me with the artistic creation of those years, arrived only in 1993, and not from the field of visual arts. On a cold and foggy Sunday in late January, I went to Cesena to see a theatrical performance whose posters I had glimpsed at the University. The title was rather disturbing: Masoch. The triumphs of theatre as passive strength, guilt, and defeat. The company was called Socìetas Raffaello Sanzio; the director was Romeo Castellucci. I had read a review that described one of their plays as a sort of ominous initiatory rite, and it stuck with me because I was looking for an antidote to prose theatre, which at the time I couldn't stand (to some extent this is still true). So, with the best of intentions I went to Cesena, trying to put myself in the right mood for this kind of show based on what I knew of performances in the '70s (i.e., almost nothing: a handful of black and white photos and some meagre descriptions). But I was completely unprepared for the show – or performance? – I saw that fateful afternoon, in a former machine shop converted into a theatre.
The set was a metal box. In it, four characters (a tormentor-mistress, her two assistants, a victim) staged an enigmatic sadomasochistic ceremony that employed not only the usual props (chains, leather masks, full-length fur coat worn by the actress), but also the iconography of the Passion (I remember a cross made of ice, a metal heart in flames, an enormous crown of metal thorns). Nothing was fake, no tricks or theatrical effect: the metal, ice, and fire were all real. The dialogues, reduced to a minimum, were orders, insults, screams; the sound track was a crescendo of noises that gradually became deafening; the acting was a brusque execution of tasks to advance the action. Looking back, what I saw resembled the inexorable workings of a single, large torture machine, like the one Kafka imagined in his "In the Penal Colony." In the epilogue, the main actor – the Punished One, immobile and passive throughout – was hung from the roof of his cell, naked and in chains, his mouth sealed by a terrifying metal gag.
I left that theatre of fortune almost at a run, dazed, my head full of questions. On the train back to Bologna, trying to make sense of the sensory assault I had just been subjected to, I read the booklet describing the performance, a sort of in-folio (I still have it) in which Castellucci presents the show as a scenic demonstration of how strength, passive and apparently submissive, can keep power, active and apparently dominant, in check. He leads the reader through a labyrinth of iconographic and textual quotes of surprising abundance, touching on Deleuze's philosophy, Latin historians, the Emilian mannerist Lelio Orsi, and fin de siècle symbolist painting. Together, the show and booklet were a sort of crash course on the art of my time, the narrow door through which I suddenly found myself catapulted into contemporary creation. Perhaps the part of that creation which struck me the most (and that later, the shock absorbed, thrilled me) was its ability to inseparably unite high and low, sophisticated theory and crude sensory impact. Thinking back, I believe the experience played a crucial role in my decision (a few years later) to devote myself to contemporary art. I can say without a doubt that when my train finally arrived in Bologna, I was already a follower – shaken and reluctant, but definitely conquered – of the sect called Socìetas.
Now, more than 25 years after that first encounter/crash, I'm still a follower. I've taken many other trains (and even a few planes) to attend Castellucci's performances. In the meantime, the young iconoclast has become one of Europe's most famous directors (Chevalier des Arts et des Lettres in France, Golden Lion for Lifetime Achievement at the Venice Biennial, member of the Academie Royale in Belgium) and has also successfully directed opera. In 2018, one of these trips took me to Brussels for the debut of his latest theatre work, a reflection on the nature and fate of art in relation to life. The show is called The New Life, and its Italian premiere has just taken place in Bologna, as a special event of Art City 2020. I hope its spectators, young and not-so-young, felt the same impact, the same force of revelation and transformation, that Masoch had for me in that distant afternoon of 1993.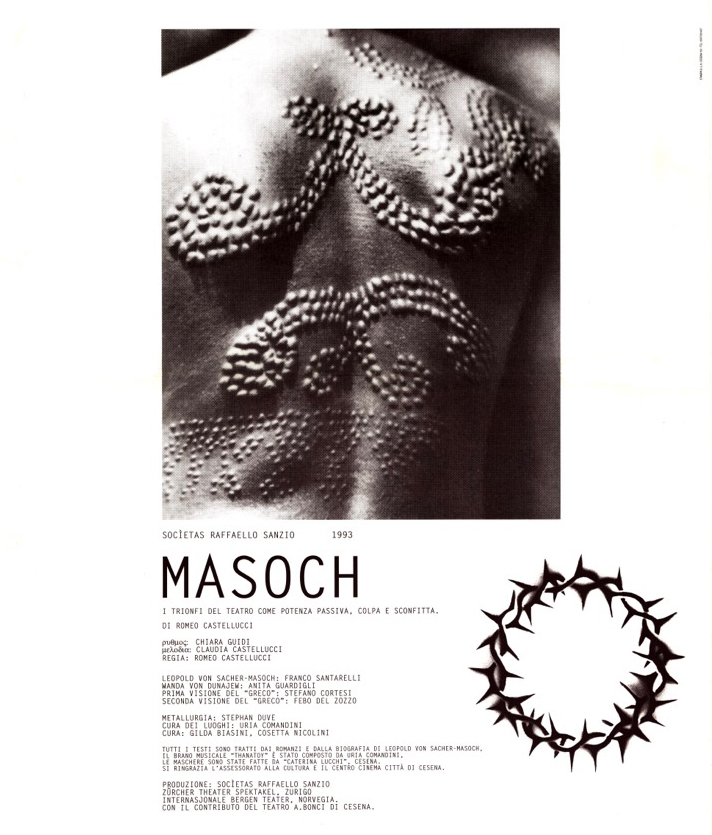 Socìetas Raffaello Sanzio, Masoch. The triumphs of theatre as passive strength, guilt, and defeat, 1993
Poster of the performance
Back