Alessandra D'Innocenzo Fini Zarri
Alessandra D'Innocenzo Fini Zarri è is Chairman of the do ut do Commission. A work from the do ut do collection was exhibited in "Solo figura e Sfondo", the first show in the Courtesy Emilia-Romagna cycle curated by Davide Ferri at Arte Fiera 2019.
In her own words: "I'm the founder and Chairman of the Do ut do project for the Seragnoli Hospice Foundation. My background is in classical studies, I'm not involved in politics, Art is my twin sister, we were born together. I have three wonderful children, Martina, Leonida and Alessandro. I share everything in my life with my husband Guido. My old friends are my supporters, I couldn't do what I do without their help. I think life is wonderful no matter what happens."
We need to ask ourselves if events and perceptible tangible forms may have an intangible, invisible cause, like a concept or a feeling.
And if we admit that this may happen, we also need to ask what laws govern relations between invisible formative causes and visible results in our lives.
This is do ut do.
Do ut do was created by my passion for the arts, knowledge, individuality that becomes sociability, harmony, synthesis, result. I am happy to offer the iconic photo of my dear friend Giovanni Gastel as an example.
Gianluca Riccio reminds us that for Mario Merz a table is a raised surface of earth: in this artistic expression we have the components of a story of love for art and development of the tangible reality of art to serve humanity. This possibility is expertly supported by a sort of imaginary balance that calls for the building of individual ideals and sociability for the common good. From this perspective (explained by humanist Pio Scilligo with the metaphor "harmony") emerges a vision of the relationship between the ideographic element of personality and its intense moral striving for social commitment.
My deepest thanks once again to my colleague, Alessandro Mendini, for devoting so much time to me before leaving us. He deserves to wear the wings of heaven in this visionary photo that he chose with enthusiastic participation. Everyone plays a leading role in this work: for example, Cuoghi and Corsello appear on the Crown of Thorns that I wear, because all of us – actor, spectator, author or public – is asked to play a part without consideration of roles or forms. It is an invitation to take part in a rite that embraces everyone's morality and thus becomes a collective gesture.
I hope you will find time to visit our 2019 do ut do "harvest" in the Pompei Archaeological Park until 1 December 2019.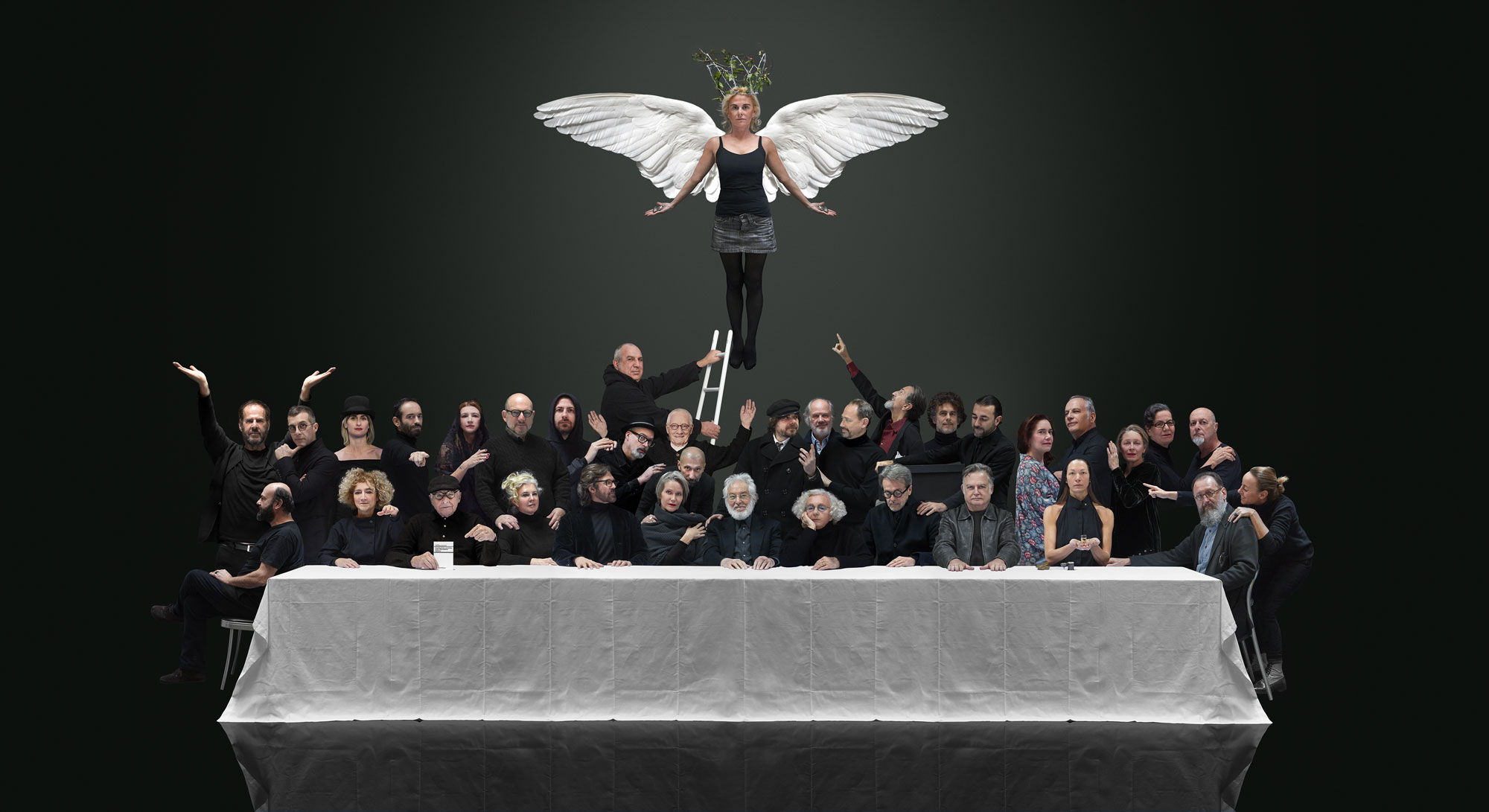 Photo: Giovanni Gastel 
Back