Andrea Viliani
Andrea Viliani has been Director of MADRE, Naples since 2013. In 2010-12 he was one of six Agents/Core-Group of dOCUMENTA(13); from 2009 to 2012 he was Director of the Fondazione Galleria Civica-Centro di Ricerca sulla Contemporaneità (now MART) in Trento, and from 2005 to 2009 he was a curator at MAMbo-Museo d'Arte Moderna in Bologna.
For Arte Fiera 2019 he was a member of the Jury for the "Arte e progetto" Award, Jacobacci & Partners, assigned to the work "Untitled, 2008" by the artist Bernd Ribbeck, represented by the Norma Mangione Gallery.


Two compasses to find Bologna again...


I came to Bologna in 2005, as curator of the Modern Art Gallery directed by Gianfranco Maraniello.
Inaugurated in 1975 next to the Fair's entrance – part of a ten-year urban reform project created by Pier Luigi Cervellati and aimed at balancing Bologna between the opposing utopias of capitalism and communism – Leone Pancaldi's brutalist building was the architectural metaphor of a programme that was simultaneously political, economic, and social, a cultural statement of values and civil actions that expressed elements ranging from research to popular culture.
When I arrived in Bologna, the Modern Art Gallery was about to move and change everything: it was scheduled to open two years later, in 2007, at a new location, the site of the Antico Forno del Pane (Municipal Bakery), and with a new name, MAMbo. The gallery would become a museum, and the museum would be in the more reassuring "historical centre." The decades of experimentation and radical conflict were over: the Bologna of '68 and '77 gave way to the reaction which, beginning in the '80s, made everyone bourgeois once again. Besides, free radios had been replaced by private TV years before….
That was when Gianfranco Maraniello and I decided this story had to be told, that it could be much more than a transfer of works and books from storehouses or desks and IT systems from offices. In addition to the projects we would name MAMBo. Non Dance Lessons, we invited Christopher Williams and Giovanni Anselmo to design two personal retrospective exhibits and tell our story along with us. Two artists who didn't know our story but, in their own way, made it universal.
Williams transformed his 2007 show at GAM into a time machine which, revealing part of the building's original layout and even some display elements not used for years, transformed a "last" show into the evocation of a "first" show, thereby converting the reasons for "closing" the structure into reasons for "opening" it.
On the other hand, Anselmo used two compasses. In his 2006 show at GAM, he placed one on a mound of earth located at the centre of the museum, from which other works, both historical and recent, irradiated in that room and in side rooms. A unitary environment that freely rewrote and reinterpreted the entire museum as a slow, almost imperceptible bradyseism, a series of slight twists that worked like a scattering of unexpected signs in the building's physical and institutional space-time. Composed of organic and inorganic materials like stone, earth, metal, water, lettuce, and cotton, those works were not symbols, but catalysers of phenomena governing our existence, phenomena that we usually don't notice: gravity, energy, the relationship between particular and universal, finite and infinite, the flow of historical and cultural time and the eternity of natural laws, physical experience and abstract thought. In this logic of propagation and inclusion, the show's final work surpassed the show itself, not part of it but in effect containing it entirely.
One morning, toward the end of preparation of the show that Anselmo would shortly inaugurate at GAM, we went with him to the old bakery, where MAMbo would open just a year later. The building was a construction site, still closed to the public. With the help of some workers, he placed a compass into the hollow of a stone slab located at the entrance of the future museum. Perhaps it wasn't even a work of art, but instead a fact, a sign of awareness and representation – or simply one of hope and welcome waiting to be received. And for a while (the length of his show in Bologna) the compass, still in the centre of the old gallery, and the one already at the entrance of the new museum, worked silently together, both marking the same direction, both magnetic needles pointing north.
I've been back to Bologna several times over the years, most recently for meetings with the "do ut do" team, which is about to inaugurate its new show at the Palestra Grande in Pompei. And every time I walk into MAMbo, I look at that small sign that welcomes me, and that my grateful gaze returns.
Grateful for being back in Bologna.
Grateful for being at the museum and, in the relationship between micro and macrocosm expressed by Anselmo's compasses, grateful for being alive…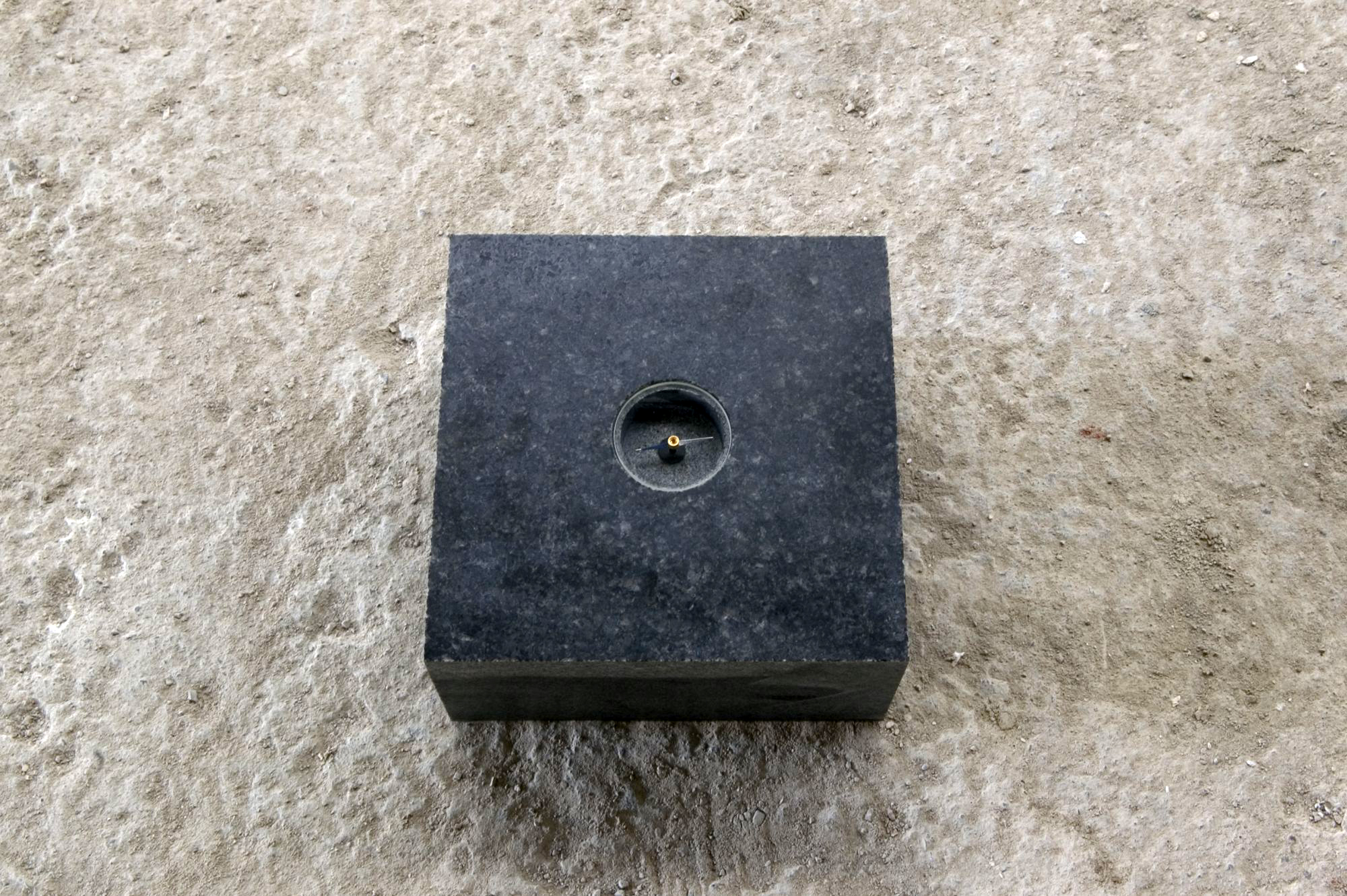 Giovanni Anselmo
Direzione, 2006
Magnetic needle, glass, stone
Provenance: site-specific intervention carried out on the occasion of the Giovanni Anselmo exhibition, curated by Gianfranco Maraniello and Andrea Viliani, Gallery of Modern Art of Bologna, 26 May - 27 August 2006.
Photo by Ela Bialkowska
Back