Barbara Abbondanza Maccaferri
Barbara Abbondanza was born in Pesaro and earned her degree at Bologna University. While still a student, she formed an organization and communication company (active until 2009) that gradually specialized in organizational consulting in the fields of art and culture. She organized, among others, the Art Book Festival, a great success with the public and very well attended by professionals. She was its guiding spirit for many editions before passing it on to her partners.
For several years thereafter, she was a consultant for public and private bodies that organized exhibits of ancient art as well as initiatives promoting the territory, gradually shifting her focus to expanding and managing the contemporary art collection started with her husband Gaetano. She now organizes projects and events only occasionally, devoting her time primarily to personal interests.
Starting with the 2020 edition, she is chair of the Arte Fiera Advisory Board, composed of eminent Italian collectors who collaborate with the Artistic Director to ensure the Fair's success.


I was born in a provincial city that at first glance looks like many others but, in my opinion, is tinged with eccentricity: there are gloomy hotels so close to the sea that they cast a shadow on the beach in the afternoon, as well as treasures that would make a big city envious; people so gently normal that they stay that way their entire life, and others so visionary that they launch wonderful initiatives like the Rossini Opera Festival, a prestigious event held since 1980 and internationally famous for its research.
When I was a girl, I used to watch two women, unceasingly curious leaders of the (at the time I thought local) contemporary art scene, back then the prerogative of relatively few connoisseurs. Informale, Transavanguardia, Arte Povera… Discussions, encounters, a lively coming-and-going of artists, critics, all kinds of people … who had ever seen them here? It was an exciting mix of vitality, seriousness, lightness…. But there was something more subtle that captured my attention, that I grasped but that also escaped me, that fed my constant need to understand…. Was I fascinated by their worldliness, the attraction they exerted, the originality of their homes, the energy they radiated, their "savoir faire et vivre"? When all was said and done, what did I find so seductive, so privileged?
I often wondered about this, while my life led me elsewhere. Then I figured it out: they had an instinct for quality. They sensed it like a dowser senses water, and they found it everywhere: in art they already knew and in art they didn't, in people, in new and antique furniture, at the flea market … and they never stopped turning the kaleidoscope of their lives – so competitive and arduous, but likewise so rewarding. Perhaps a bit reckless, even careless, but always flying their own kite. Back then I couldn't have known it, but now I think I do: the scene that hypnotized me wasn't small-town: it was worthy of the world, everywhere in the world. The quality of those objects was taken out of context. Quality is quality, and seeing it, holding it, is a powerful privilege. Having it in your life, even for just a few seconds, is exhilarating.
Unfortunately, intuiting and perceiving aren't the same as understanding, much less possessing. But it is participating, and then, sometimes, the solution is found: I met the man who became my husband, a karst spring, serenely defined by his love of quality. And so, bit by bit, what I didn't realise I wanted so much began to trickle into my life ….
I have no curatorial skills, and I'm a dilettante in art (including contemporary), but I love it, I look at it and feel it with real pleasure, at times with deep emotion.
Giacometti's cosmic solitude; Picasso's unerring stroke when he sketches his reclining lover; Brancusi's transcendence; the inner enslavement of Bacon's figures; the power of Mattiacci's magnet; Anselmo's stones that fly, that "become lighter overseas;" the sense of atoning for sins in Kiefer's world; the joyful magic of twisted wire in Melotti's sculptural metaphors; the explosive revolutionary charge of abstract post-war language; the seductive force of surrealism, neither abstract nor representative; the originality of Action Painting – a sort of diary of the artist's creative impulse; Spatialism's study of sign, colour, light; the destabilising result of artists' involvement in ethical and social matters… I could go on forever.
Over the years, I've discovered other crucial things, such as vision: the ability to see paths where there are none; to perceive the strength of a gesture that looks like a scrawl; an explosive message where there seems to be only stones and rags assembled at random; uniqueness that at first sight is just repetition and plagiarism; someone you never noticed before… Now I pay attention: I'm very attracted to visionaries.
Plus: the magic of conciseness - simplicity as destination after so much complexity, addition, intense activity, reasoning, intuition.… Sometimes I seem to grasp it in an artist's work – even one who is very young or unknown – and I'm carried away: it's as if the toil of working and of seeking one's own original line of expression vanishes in the buoyant intensity of the result: conciseness!
I've been lucky, but I don't know if luck exists or has to be discovered in the ravines where it hides under all its disguises…. Let's not be afraid of being afraid…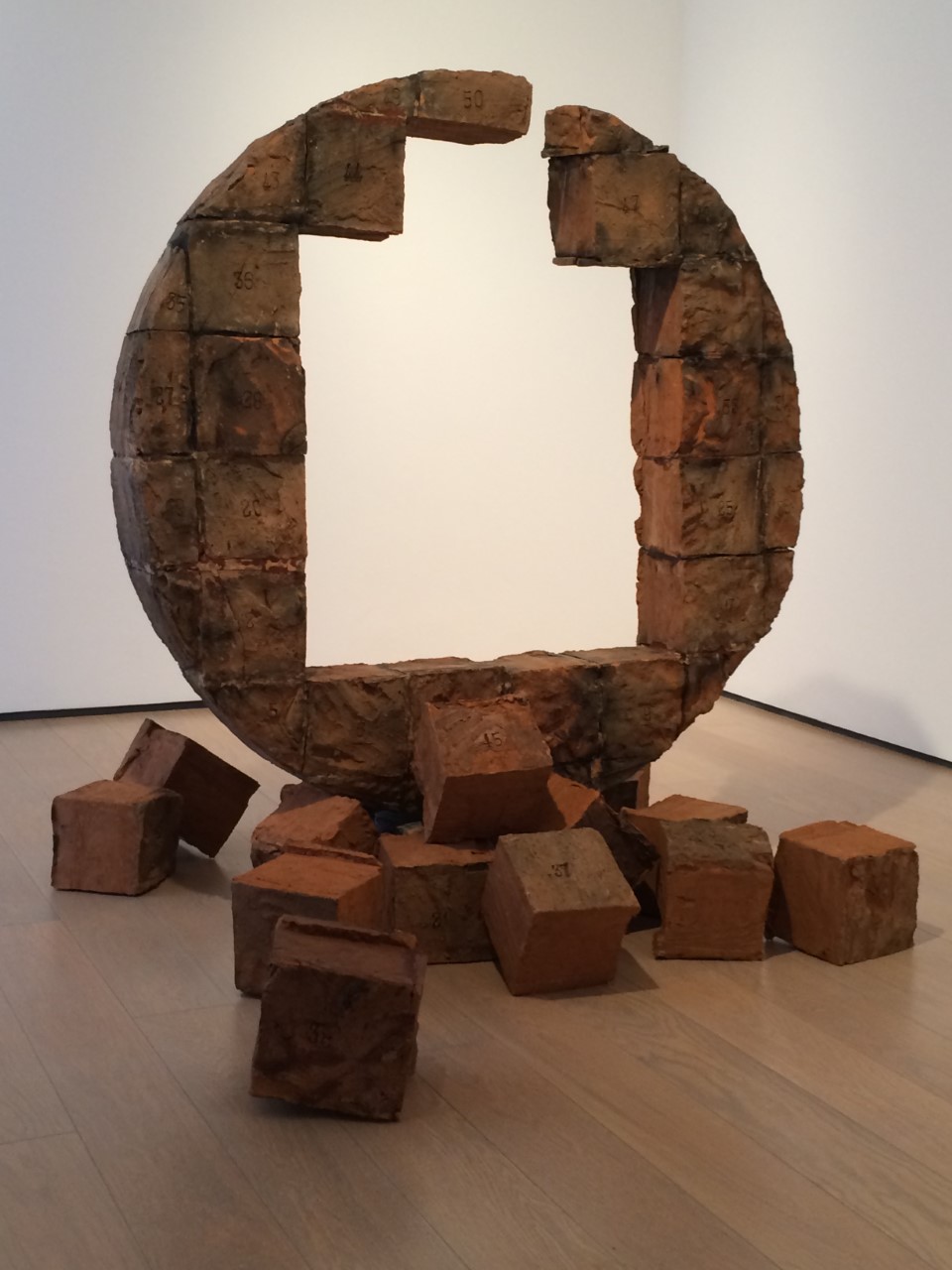 Giuseppe Spagnulo, Rosa dei venti, 2012, englobed terracotta, ferric oxide, cupric oxide
courtesy Galleria dello Scudo
Back