Francesco Zanot
Francesco Zanot, photography critic and historian, has curated exhibitions and written monographs of artists such as Olivo Barbieri, Mark Cohen, Linda Fregni Nagler, Luigi Ghirri, Guido Guidi, Takashi Homma, Francesco Jodice, Erik Kessels, Boris Mikhailov, Carlo Mollino, and Alec Soth. He is Course Leader of the Master in Photography and Visual Design at NABA in Milan and principal curator of Camera – Italian Centre for Photography, in Turin. In 2017, he curated Give Me Yesterday, the inaugural exhibition of the Prada Gallery Observatory. He has worked with Fantom, curators of the Photography and Moving Images of Arte Fiera, since its foundation.


I've driven down from Milan to Emilia very often in recent years. Living on the south side of the city helps a lot. Navigli, ring road, Famagosta, a few kilometres of bypass, and you're already on the motorway. The exits come in rapid succession: Lodi, Casalpusterlengo, Fiorenzuola, Fidenza, Parma, Campegine. Then mine: Reggio Emilia. Ten minutes more and I'm at my destination: Roncocesi, with Luigi Ghirri's last home, now containing his archives.
I visited it for the first time exactly ten years ago, 20 March 2009. A few days before that, I'd received a quick email from my friend Daniele: "Paola Ghirri says Friday at 3 PM is fine. I'll call you to decide how to go. 'Bye, Daniele." Among the infinite wonders of that first visit, I especially remember the excitement of a discovery: everything I had seen in Ghirri's images was real. Suddenly, the places and things that had filled my gaze, my thoughts, my days ever since I began studying photography, I could now see all around me without having to filter them through an image. Ghirri didn't invent anything. It might seem a paradox, and maybe I should have been disappointed. But I wasn't, because what appeared before me in no way decreased the force and value of the images that represented it. The opposite didn't happen either, that is, the photographs didn't make things more interesting than they really were. The two elements of this proportion formed a ratio that was as clear and linear as it was prolific.
Ghirri's images help navigate the world, like maps. A delicate but perfect balance. Instead of outclassing reality, his photographs urge us to experience them directly, guided by this process. The show that recently brought his works to the Folkwang Museum in Essen, to the Reina Sofia Museum in Madrid, and to the Jeu de Paume in Paris, has an eloquent title: The Map and the Territory. The spaces, things, moods, atmospheres that I keep meeting each time I drive down to Roncocesi are strewn all over Europe. Ghirri's maps take us far away, and seeing them just a few steps from the Seine brought to mind a passage from Sylvie and Bruno, by the writer (and photographer) Lewis Carroll.
"What do you consider the largest map that would be really useful?"
"About six inches to the mile."
"Only six inches!" exclaimed Mein Herr. "We very soon got to six yards to the mile. Then we tried a hundred yards to the mile. And then came the grandest idea of all! We actually made a map of the country, on the scale of a mile to the mile!"
"Have you used it much?" I enquired.
"It has never been spread out, yet," said Mein Herr: "the farmers objected: they said it would cover the whole country, and shut out the sunlight! So we now use the country itself, as its own map, and I assure you it does nearly as well."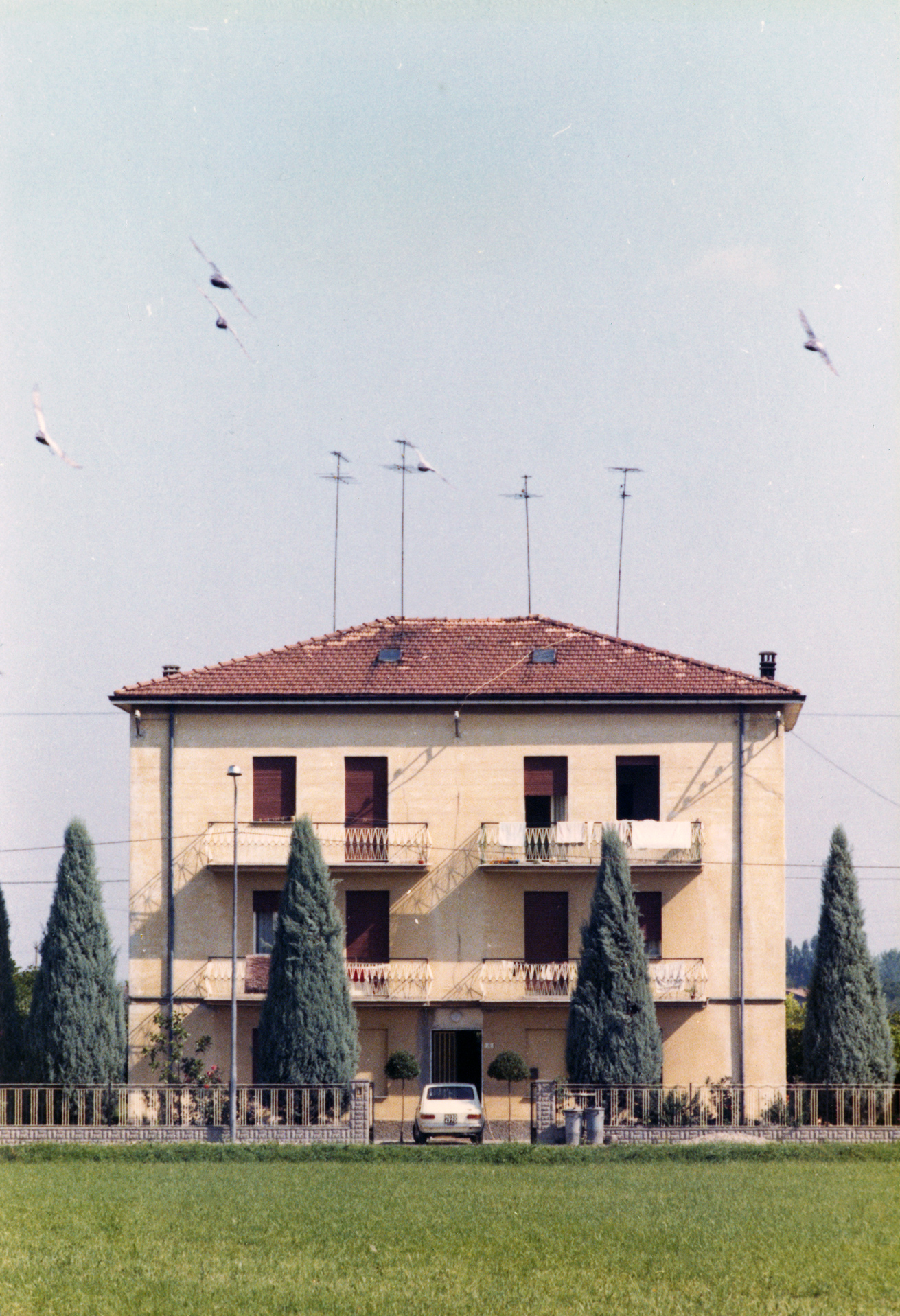 Title: Modena 1973
Copyright: Heirs of Luigi Ghirri
Back