Massimo Orsini
Massimo Orsini was born in Reggio nell'Emilia and grew up in Sassuolo (MO). In late 2005, curiosity led him to leave his family's company and take over Mutina to try his hand at ceramics, quickly making it a material loved by the world's foremost designers. Mutina, an innovator in the field of ceramic surfaces, has entered the contemporary art world through Mutina for Art, an ambitious and multifaceted project that includes MUT, an exhibition space at its headquarters, This is Not a Prize, a large annual prize, and Dialogue, a series of collaborations with artists, galleries, partners from various fields of interest, and international art institutions.
Works from the Mutina collection were exhibited in "Solo figura e sfondo" the first show in the Courtesy Emilia-Romagna series, curated by Davide Ferri at Arte Fiera 2019.


At last year's Arte Fiera, Davide Ferri curated a show inspired by the idea of the relationship between figure and background, a theme in many works in my collection in addition to being one of the main subjects of my daily observation. The landscape is identity, poetry, infinite, but also a surprising moving structure that I'd like to stop at certain moments, just like Ghirri has done. His landscapes accompany me every day as I go from my home to Mutina: suffused and intimate, I seek them out and collect them with the passion of someone looking for pieces of a puzzle that is private but simultaneously shared and universal.
I was thrilled to see my works on display in Bologna together with those of so many wonderful local collections, and it was surprising to see how they represented three ways to reflect form in the landscape. In Francesco Gennari's photographic self-portrait as "solar eclipse," his body converges in a natural phenomenon: light as physical and metaphorical expression. Franco Vimercati's grater, an almost "architectural" object, presents the artist's relationship with the act of photographing. The pure abstraction of Franz Erhard Walther, with its use of geometry and fabric, suggests the importance of form in our sentiment. I love many figures and many backgrounds in my collection: Etel Adnan's colour speaks, Sugimoto's seas reveal the essence of the universe on the horizon, Ettore Spalletti creates depth on the surface.
I decided to create the MUT exhibition space in my company to offer a landscape of inspiration, a context that represents a constantly changing background for my many passions – and become the same for everyone who works with me. Jochen Lempert, for whom MUT hosted a solo show, made me experience the landscape in yet another way: one day during the preparation, we went on a nature walk and I was struck by the spontaneity, and also by the precision, of what his lens captures and transforms. These are experiences that link art to life.
The next exhibition at MUT, opening on 23 September, will be a new, large site-specific production by the artist Nathalie Du Pasquier. I discussed this project many times with Mutina, because we are both convinced that contact with the artists is its indispensable lifeblood. Nathalie's gaze, her vitality, and her ability to relate figure and background are remarkable, but most of all they remind me how much the surprise is an essential ingredient in our relationship with the world around us.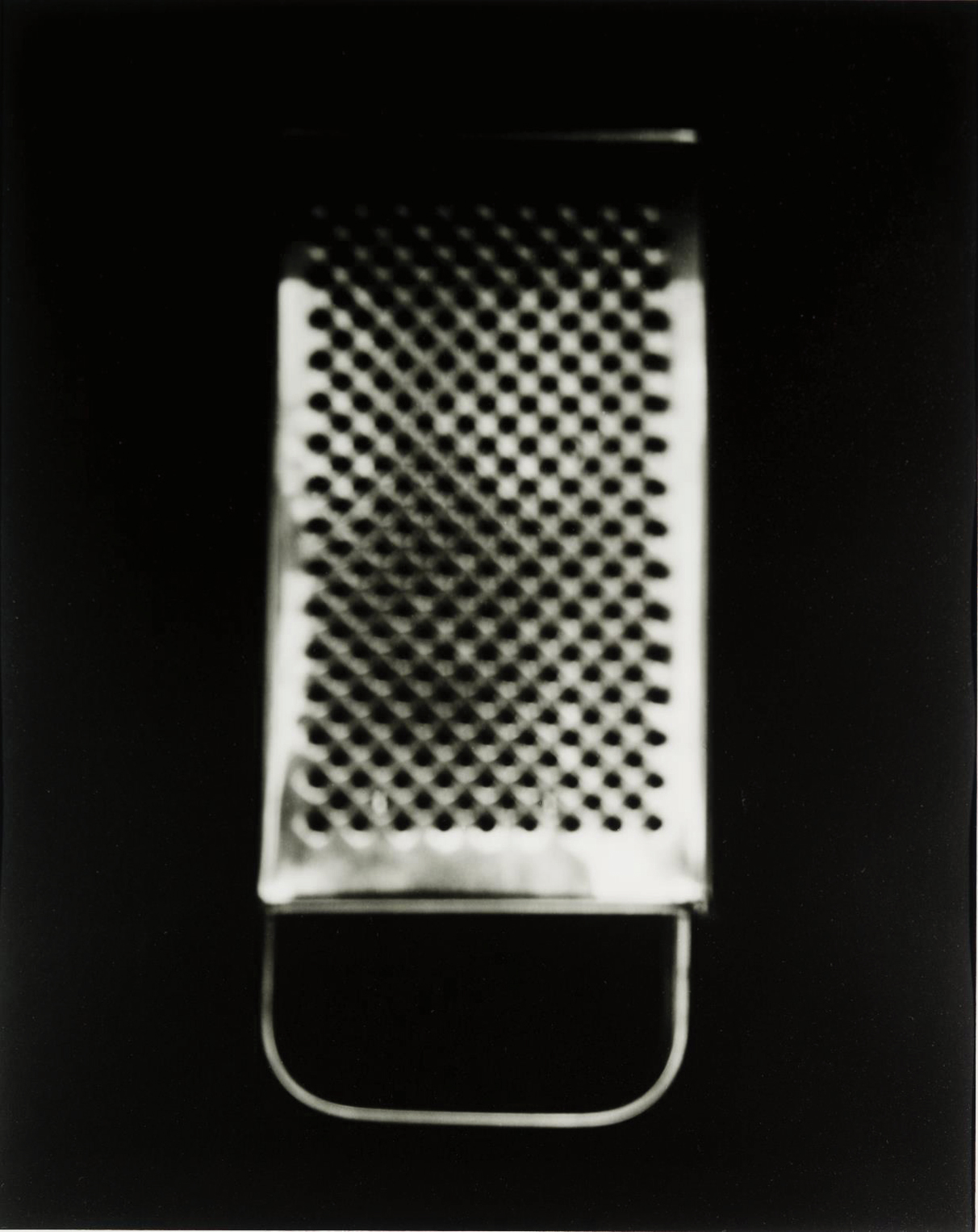 Franco Vimercati, Senza titolo (Grattugia),1997, Silver gelatin print
Massimo Orsini Collection, MUTINA FOR ART, Fiorano (MO)
Back